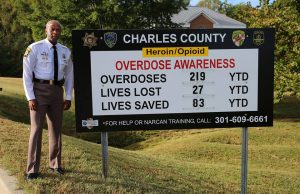 Sheriff Berry and the men and women of the Charles County Sheriff's Office, along with several community partners, are taking a stand against the heroin and opioid epidemic we are facing in our community.
Their new signboards, located in Waldorf and La Plata next to our stations along with several other locations throughout the county, they continue to be updated with these alarming numbers. This year, they have responded to 219 overdoses. They were able to save 83 lives by administering Narcan, however 27 lives were lost due to heroin and opioid overdoses.
They are working to bring these numbers down through efforts in several areas, including:
• Education: They are partnering with Charles County Public Schools, Charles County Government, and Charles County Department of Health to bring forth education and awareness about the dangers of heroin and opioids.
• Prevention: With help from law enforcement partners including the Maryland State Police, La Plata Police Department, MD, Maryland Transportation Authority (MDTA) Police, and the State's Attorney's Office for Charles County, they are cracking down on dealers who are poisoning our community with deadly substances like fentanyl and carfentanyl found in heroin.
• Resources: They are working with local churches, faith-based communities, and other community organizations to provide resources for those facing addiction. The Charles County Detention Center educates inmates on these resources so that they can seek help upon their release, which helps to prevent recidivism.
If you or someone you know is struggling with addiction, contact the Charles County Department of Health at 301-609-6661.