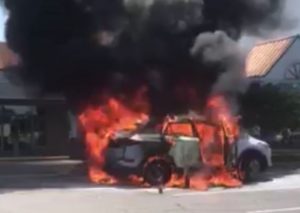 UPDATE:  The Office of the State Fire Marshal reports, the driver of the 2016 Hyundai SUV, Robert Oliver, 90, had recently purchased gasoline from WaWa to mow his yard, placing the gas container in the trunk of his vehicle. He then stopped at the Bed, Bath & Beyond in California to shop. When he re-entered his vehicle the fumes from the gasoline ignited.
Three citizens reacted quickly to extract Mr. Oliver from the burning vehicle and administered first aid.
Mr. Oliver was flown to MedStar Washington Burn Center.
One citizen was treated at MedStar St. Mary's Hospital for smoke inhalation and one was treated on the scene for minor burns to the arm.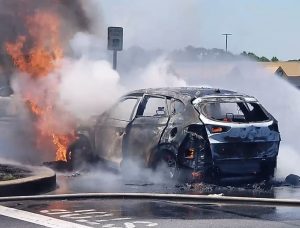 5/24/2018: On Thursday, May 24, 2018, at 1:30 p.m., Fire and rescue personnel responded to Wildewood Shopping Center, in California, for a vehicle fire with injuries.
Crews arrived on scene to find a passenger vehicle fully involved, with 4 victims, in front of Bed Bath & Beyond.
One patient who was in the vehicle was taken to an area trauma center by helicopter for severe burns and life-threatening injuries. Two of the three people who assisted in pulling the occupant out of the vehicle and rendering care signed care refusal forms at the scene, while another was transported to an area hospital with smoke inhalation.
Maryland State Police and Fire Marshall are investigating the cause of the fire.
Updates will be provided when they become available.