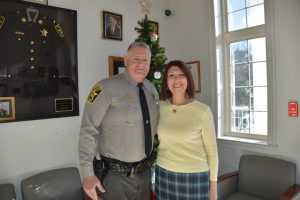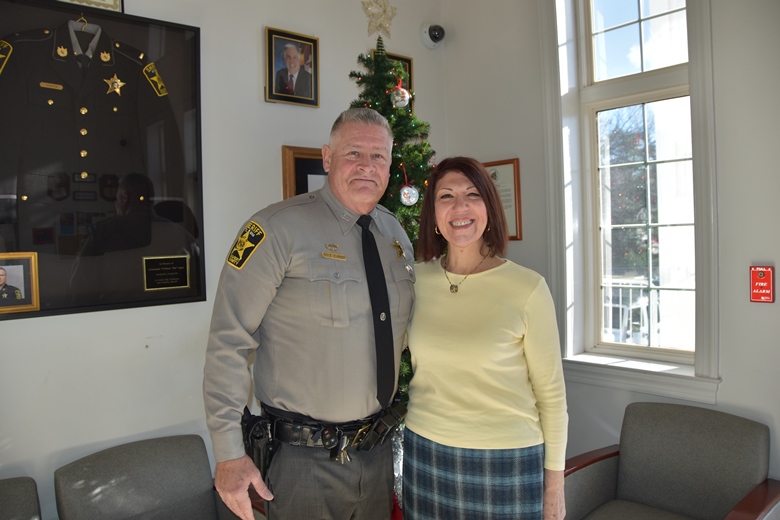 The holidays can be a particularly stressful time for individuals at risk for mental health issues. Parties, large family gatherings, and other seasonal events can exacerbate raw feelings and create negative situations. If feelings of discontent are combined with alcohol or drugs used to self-medicate, a hostile environment may result.
As first responders to all too many heart-wrenching scenarios, the Calvert County Sheriff's Office is well aware that the holidays provide not only opportunities for increased crime but also an increase in calls related to people experiencing mental health crises. For this reason, Sheriff Mike Evans has partnered with the Southern Maryland Community Network's Community Behavioral Liaison Program (CBHL), adding a mental health component to his maximum deployment operations. Behavioral Health Liaison Susan Onofrio is a clinician who provides access to community resources for those experiencing mental health crises in Calvert, Charles, and St. Mary's Counties, and is prepared to respond to calls when a mental health crisis is suspected.
"With saturation patrols to capture drunk drivers and enhanced robbery patrols, we strategically deploy our resources during the holiday season to provide a safe holiday experience for everyone in the community. In addition to these concerns, we are also prepared for those who might be experiencing a mental health crisis," says Sheriff Mike Evans. "Our officers have been undergoing Crisis Intervention Team (CIT) training in order to learn to recognize and respond appropriately to presenting signs of mental illness, and we have partnered with a Behavioral Health Liaison to offer on-scene resources and alternatives to arrest for these individuals."
The benefits of the partnership between the Sheriff's Office and the CBHL are many.  While deputies arranged for the person in crisis to be transported to Calvert Memorial Hospital under an emergency petition, the family is provided with a list of resources that could be utilized during this time of crisis and beyond.
Patrice Duperval, LCSW-C, Director of Case Management from the Southern Maryland Community Network comments, "These calls are an example of a situation where the Liaison is able to be the calm after the storm," providing a benefit from on-going services."
Aware that the deputies regularly have interactions with individuals suffering from mental health crises, the Liaison explained how she can assist law enforcement in providing these individuals and their families with the care and resources they need. Such assistance can ultimately reduce recidivism on the part of these individuals, lowering repeat 911 calls, and increasing safety for individuals, officers, and the community.
The CIT-trained deputies are able to use the skills they had learned to identify those exhibiting signs of a mental illness, and then employ those skills to de-escalate potentially dangerous situations. From there, the Liaison supplies the individual involved with links to appropriate community resources and referrals for proper treatment, including personalized safety planning.
Captain David Payne, says, "As deputies, we see first-hand the value of this partnership. Someone knowledgeable outside of the department can come in and tell those suffering about available resources, without having to "police" or arrest anyone. Traditionally, such individuals would soon be back in the community, experiencing the same issues. When appropriate, this collaboration between our office with the Behavioral Health Liaison gives officers a valuable option to individuals in mental health crisis outside of interactions with the Justice System and Emergency Rooms.
Questions about the program should be directed to Dfc. Nick DeFelice at 410-535-2800.