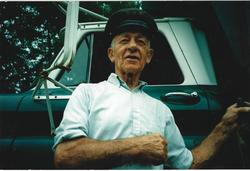 George Leroy DeMarr, Sr., a well-known farmer and a wounded combat veteran of the World War II Normandy invasion, died on January 1, 2017, at University of Maryland Charles Regional Medical Center in La Plata. He was 94.
He was born April 16, 1922 in Brandywine, Maryland as the second of six children of Claude Leroy and Irene Elizabeth DeMarr. He spent his boyhood in Prince George's County and moved to White Plains with his parents in 1941.
In the midst of World War II, Mr. DeMarr answered the call of his country by enlisting in the United States Army on December 1, 1942. He served three years in the 2nd Infantry Division and spent 26 months overseas in the European Theater of Operations. He landed at Omaha Beach on D-Day plus 1 (June 7, 1944) and fought in four major battles in Normandy, Northern France, and the Rhineland. He was wounded in action twice. The second time his wounds were life-threatening. Shrapnel pierced his skull and he carried it for the rest of his days.
Mr. DeMarr received the Purple Heart Medal, four battle stars, Combat Infantry Badge, Good Conduct Badge, E.T.O. Service Ribbon, Expert Rifle Badge and World War II Victory Ribbon. He rarely spoke of his time in the war.
He returned to Charles County after his discharge, and in September 1946, he purchased his farm on DeMarr Road, next to his parents' farm. His first home burned down soon after he acquired it, and in 1948 he built with his own hands the familiar hill-top home where he thereafter lived.
On January 28, 1950, he married the former Mary Estelle Richards, and for 62 years he remained her devoted and faithful husband until her death on April 2, 2012. They had two children, George Leroy DeMarr, Jr. and Phyllis Ann "Sissy" Atkinson, wife of Dennis Mark "Chubby" Atkinson. Five grandchildren survive him: George Calvin DeMarr, Cassie May DeMarr, Shelby Gwenn DeMarr, Robert Warren Atkinson, and William Leroy Atkinson; as well as three great-grandchildren. His brother, Paul C. DeMarr, and many nieces and nephews, also survive him. In addition to his wife and parents, he was predeceased by his grandson, Michael Andrew DeMarr, and by four of his siblings: Olive Smith, Joy Pankake, Raymond E. DeMarr, and Charles J. DeMarr.
Mr. DeMarr had many talents. He made his living as a tobacco and livestock farmer, a dump truck owner and driver, and a school bus driver. At the farm, he kept cattle, horses, pigs, and poultry, and he operated a mechanic's shop, a saw mill, and a gravel pit. A ride in his carefully preserved Model T car is a cherished memory for many.
His wide circle of friends and family will remember him as a jovial, honest, hard-working, salt-of-the-earth man.
Visitation will be on Sunday, January 8, from 2 p.m. to 4 p.m. and 6 p.m. to 8 p.m. at the Brinsfield-Echols Funeral Home at Charlotte Hall. The Reverend Marvin Harris will hold the funeral service at the funeral home at 11 a.m. on Monday, January 9. Burial will follow at Trinity Memorial Gardens, Waldorf, with full military honors.
Pallbearers will be George L. DeMarr, Jr., Dennis M. Atkinson, Robert W. Atkinson, William L. Atkinson, George C. DeMarr, George Laverne DeMarr, Tracy DeMarr and Calvin Robey.
Memorial contributions may be made to the Wounded Warrior Project, 4899 Belfort Road, Suite 300, Jacksonville, Florida 32256, or to the American Cancer Society.