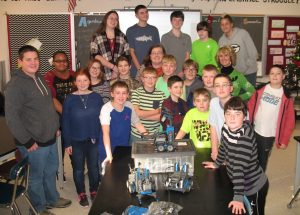 Thanks to The Patuxent Partnership (TPP) members, AVIAN, LLC and RPI Group, Inc., Margaret Brent Middle School's (MBMS) robotics team has new robotics equipment … and just in time for this year's VEX IQ challenge.
Student participation in the robotics program exploded this year, jumping from two students last season to over 30 participants for the 2016-2017 program. "I was overjoyed to see the number of students interested in robotics this year," said Debbie Orgel, MBMS Robotics Coordinator, "then I was overwhelmed by lack of equipment the school had to support that many students. The team started fundraising immediately but I knew we wouldn't be able to raise that amount of money in time for the tournament."
That's when Kevin Switick, President of AVIAN, and Robert Pleban, President of RPI Group, came to the rescue and purchased kits and competition equipment so the school could register two teams for the upcoming tournament on Jan. 14. "We are so thankful to Kevin and Robert for their generosity. Without their support, we could not have accommodated the large number of students this year. The team is excited to have such wonderful sponsors," said Orgel.
Robotics programs have been gaining momentum in Southern Maryland over the past several years. With local teams, such as the RoboBees, Great Mills High School and Ridge Elementary capturing National and World titles, the community is taking notice. As more and more schools join the robot revolution, community support is going to be critical. "Investing in students is an investment in our own company's future," said Switick. "These are future AVIAN engineers in training and giving them the tools and materials to learn is a small price to pay for the return on investment in the future."
Robert Pleban sees the advantages of robotics programs in early education as a powerful motivator for engaging students in STEM fields. "Many people view robotics as an 'engineering centered' STEM activity, but robotics programs are so much more. The coding / programming necessary to successfully compete in these tournaments is astounding. These students are technology and computer savvy by the time they enter high school and bring an amazing skillset to the workforce," said Pleban. "With a projected 51 percent increase in computer science positions over the next five years, robotics programs should be commonplace in school curriculum if we want to ensure a qualified workforce."
For further information about VEX IQ and the CSM Robotics Challenge visit stem-link.org/activities/robotics.
For more information about TPP's STEM initiatives visit stem-link.org.
The Patuxent Partnership works with government, industry and academia on programs and initiatives designed to support workforce development in Science, Technology, Engineering and Mathematics (STEM), host programs of interest to the Navy and the broader community and supports research and technology development. Visit www.paxpartnership.org.