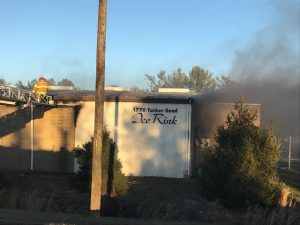 Just after 3:00 pm, Wednesday, January 4, a popular community sports facility suffered significant damage from a fire that appears accidental.
Prince George's County Firefighters were alerted to the fire at the Tucker Road Ice Rink, 1770 Tucker Road, in Fort Washington and arrived to find a large 1-story complex with heavy smoke coming from the roof area. Firefighters searched for the seat of the fire that was extending rapidly through the roof area.
In images captured of the incident, smoke can be seen rising from the roof area with fire extending through concealed ceilings and roofing material.
A 2nd Alarm was sounded bringing additional staffing and apparatus to this work extensive fire. The challenging fire was extinguished in about 45 minutes. No injuries were reported.
Fire Investigators believe the fire originated in the ceiling above the rink around a light fixture. The fire is listed as accidental and fire loss is estimated at $500,000.
The Tucker Road Ice Rink is managed by Prince George's County Park and Planning. They will be making decisions concerning repair and re-opening of the facility.
Firefighters from the City of Alexandria VA, Fairfax Fire and Rescue, Charles County and Naval District Washington assisted Prince George's Firefighters on this incident either on the scene or filling in at one of our fire/EMS stations.
Images captured by Fire Fighter/Medic Lieutenant Brian Goldfeder