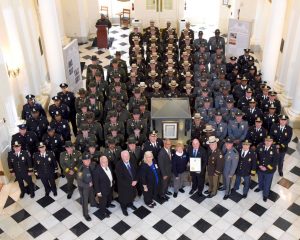 Governor Larry Hogan today issued a statewide proclamation declaring Monday, January 9, 2017 as Law Enforcement Appreciation Day in Maryland.
National Law Enforcement Day is acknowledged annually on January 9, when states and organizations across the country show their support for our nation's law enforcement officers. Government House will also be lit blue on the evening of January 9 in recognition and support of Maryland's law enforcement officials.
"Maryland's law enforcement officers are some of the bravest and most courageous men and women in uniform anywhere in the country, and I am honored to declare today as Law Enforcement Appreciation Day in recognition of their complete dedication to the protection of our citizens," said Governor Hogan.
"Every single day, our men and women in uniform selflessly put their lives on the line to make our communities safer. I will continue to show my unwavering support for our law enforcement officers, and I encourage all Marylanders to show their appreciation for these extraordinary men and women," the governor continued.
In recognition and celebration of Law Enforcement Appreciation Day, Governor Hogan met with officers from the Maryland State Police, Natural Resources Police, Maryland Transportation Authority Police, Maryland Transit Administration Police, Maryland Capitol Police, and Baltimore City School Police. He also met with representatives from the Maryland Chapter of Concerns of Police Survivors, an organization that provides resources for families and coworkers of law enforcement officers killed in the line of duty.