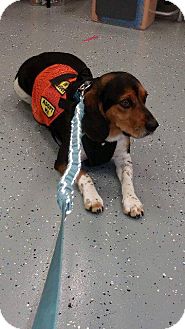 Wednesday's Pet for 1/18/2017 Dexter
Featured Pet: Dexter
Rescue Group: St. Mary's Animal Welfare League (SMAWL)
Breed: Beagle
Sex: Male
Size: Medium
Vetted: Neutered and Up-to-date with routine shots
Adoption Fee: $250.00
Dexter is a cute little Beagle. He has had obedience training from Think Like A Dog and graduated with excellence! Dexter is very friendly, sweet and loves other dogs. He is great with children also, but still working on resource guarding so children over 10 would be best. Dexter is going to make any family a loyal, loving family member.
If you are interested in Dexter, please download the application HERE:
http://www.smawl.org/index.php/ready-to-adopt/applications
Email it to: smawl@yahoo.com
A little bit of breed information:
The Beagle is a hardy little hound dog. The Beagle is loving and gentle, and happy to see everyone. Beagles are sociable, intelligent, and excellent with children.
"He is your friend, your partner, your defender, your dog. You are his life, his love, his leader. He will be yours, faithful and true, to the last beat of his heart. You owe it to him to be worthy of such devotion."
– Unknown