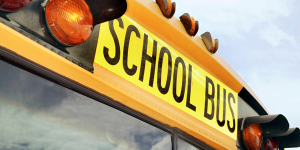 The Charles County Sheriff's Office Traffic Operations Unit is investigating an accident on Poplar Hill Road which involved a school bus and two other vehicles.
The call came in on Friday, January 20, 2017, at approximately 2:30 p.m. regarding an accident involving a school bus.
Preliminary investigation reveals a vehicle, which was occupied by only the driver, reportedly struck the side of the school bus, went on to strike another car, and then became disabled. There were 8 occupants on the school bus, including seven students and the driver. No one on the School bus was injured. There were 2 adults in the second vehicle that was struck, both of whom were transported to a local hospital with minor injuries. The driver of the striking vehicle was uninjured. The school bus had minor damage and was driven away from the scene.
The cause of the crash is under investigation.