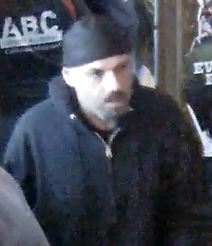 On Monday, January 16, 2017, at approximately 11:45 p.m., the man seen in the videos below came into the ABC Liquors and Lounge located on Three Notch Road in California, and stole a purse hanging on the back of a woman's bar stool.
In the first video the man can be seen entering the bar from outside, he enters the bar at 11:42:27.
The man can be seen in the second video concealing the purse at 11:44:46 and taking it out the door .
Anyone with information of the identity of this individual can leave a comment below, or contact the St. Mary's County Sheriff's Office at 301-475-4040.