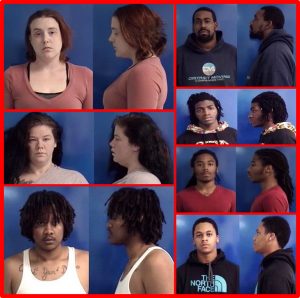 On January 12, 2017 the male victim, referred to as "Matt" was a victim of a robbery that occurred on German Chapel Road, in Prince Frederick.
Matt advised police in Calvert County that he was struck in the head with a pistol and punched and kicked by four black males. These same individuals stole drugs, an apple Iphone and approximately $260.00 in cash from Matt.
Matt was able to give detailed descriptions of the suspects in this case as follows:
Suspect 1: Black male possibly named Riley who is 19-20 years of age, tall 5-10, thin with long thin dreadlocks, very friendly. Has seen Riley 3 to 4 times at Ken Mar Liquors and knowns him upon sight. "Riley" is also known on some occasions to wear his hair in a ponytail. On January 12, 2017 "Riley" was wearing a black sweatshirt.
Suspect 2: A very light skin toned black male "looks almost Arabic" 19-20 years of age, skinny 5′-10″ to 6′ short buzz cut with a new "shape up" wearing an all-black track suit. This suspect was in possession of a handgun described to have a silver or brushed aluminum slide and barrel and a black grip.
Suspect 3: A short fat black male with a dark skin tone, 19-20 years old with a short twist or dreadlock hair style wearing a black sweatshirt and a black "Muslim" style cap or beanie
Suspect 4: A black male 19-20 years old, medium skin toned, dreadlocks style hair with red tips that came down to his cheek bone. Was wearing a black hooded sweatshirt with the Maryland flag on the shoulders or sleeves.
Matt told police, on January 12, 2017 he bought a white female who he knew as Riley Evans a pack of cigarettes while working at a Liquor Store in Prince Frederick. He stated the agreement was for him to later go to Riley's home on German Chapel Road and smoke marijuana in payment for the cigarettes.
Later in the evening Matt arrived at German Chapel Rd. where he entered the residence. Matt stated he was inside the home with Riley Evans and Valerie Nielson.
Matt stated that Riley received a phone call from an unknown person who asked who was in her home. He recalled Riley telling the person that she Valerie and Matt were in the house. Matt stated a few minutes later four black males/suspects knocked on the door. Matt stated they all smoked marijuana and he drank a single beer. Matt stated the males played video games. Matt stated he felt it was time to leave so he informed the group he was leaving. Matt stated the four black males also said they were leaving. Matt said the black males walked out first. He said he followed behind and noticed they had arrived in a small red SUV. He described the SUV to be red in color with a black front and black rear bumper. He said the SUV had black wheels and a spare tire on the rear door.
Matt stated he heard the males open the doors to the SUV but didn't hear them close. As he was walking to the driver's door of his vehicle he heard footsteps behind him. He then saw suspect 2 pull and display the pistol described above from his track pants. This suspect did not say anything.
Matt stated he ran up the stairs and beat on the door begging Riley to open. He recalled telling Riley they had a gun. He stated as he entered the apartment the males followed behind him. He stated he was pistol whipped and knocked to the ground by suspect 2. Matt stated as he laid on the ground the three other males, suspects 1, 3 and 4 punched and hit him. He stated the suspects pulled at his clothing and rummaged through his pockets. The suspects robbed him of his money, wallet and cell phone. Matt stated he had just been paid by the liquor store and had approximately $260.00 in cash in a black wallet, and an Apple iPhone that was white and gold in color with a cracked screen. All of these items were stolen by the suspects.
Matt stated the males fled and left in the red SUV. He stated he was bleeding from his ear. He recalled Riley apologizing to him for the actions of the suspects. He stated Valerie was present for the robbery and was hysterical and was crying. He stated that Riley told him the males had also stolen her and Valerie's cell phones and they could not call the police.
Matt drove himself to Calvert Memorial Hospital for treatment where the police were alerted to the aforementioned event.
Matt was able to provide this investigator with the cell phone number for Riley Evans. Her cell phone records have been preserved.
Matt stated that on January 13 he was at Wawa when he encountered an acquaintance who asked how he became injured and he told her how he had been robbed by a black male named Riley. He stated she asked him if Riley was black and if he had long thin dreadlocks. Matt stated she asked if Riley was about a year younger than Matt . He stated that She advised him that Riley lived in the neighborhood of Calvert Town in Prince Frederick. Matt stated he feels that Riley was involved in the robbery and had set up the plan to rob him. He stated that Riley knew that he had received his pay from his employer.
On or about January 15th and 16th of 2017 the Maryland State Police responded to a home invasion robbery on Helena Drive in Prince Frederick, Maryland. Arrested in this investigation was Riley Lynn Evans, 30, and Valerie Marie Nielson, 29, both of Prince Frederick.
Police  interviewed Riley Evans regarding her involvement and knowledge of the robbery of Matt that occurred at her residence on January 12, 2017. Evans was cooperative and advised the following:
Evans stated she had Matt over her home on the evening of January 12, 2017 to hang out and smoke marijuana. She stated she received a phone call from a male who she knew as Riley who asked what she was doing and if he could come over. She stated she asked Matt if Riley could come over and Matt knowing and liking the male known as Riley said yes. Evans stated Riley and Matt had hung out before at her residence. Approximately 5 minutes later Riley arrived accompanied by three black males. Evans stated the males sat in her home and smoked marijuana with Matt and herself. She stated that her roommate, Valerie Nielson, was also present in the home. Evans stated Matt announced that he was leaving and gathered his belongings. She stated the four black males also decided to leave and walked out right before Matt . She stated she heard a scuffle and Matt ran back into her home screaming that the black males had a gun and were trying to rob him. She stated she went to lock the door but was accosted by a black male who put a handgun in her face. She described him to have a light skin tone and said his name was Isaiah. She stated he saw Matt assaulted by all four of the males and heard Matt pleading with them not to take his property. She saw the males kick and punch Matt. Evans was asked what vehicles she has seen Riley operate. She described a small four door hatch back SUV that was red in color. She said the car does not have dark tinted windows. Evans knew Riley to live in the neighborhood called Calvert Town.
Evans description of the suspects to you Affiant was as follows:
Suspect 1: Riley. She described Riley as a black male tall and thin "a trouble maker" long dreads light skin tone. Was wearing camp pants and a white shirt with blue stripes "polo". Riley was walking back and forth covering his face with his jacket.
Suspect 2: "Isaiah" Light skin toned black male green or hazel eyes over 6 feet thin build, Black jacket, Black pants, and shoes. And a black mask around his neck possible black Healy Hanson jacket. Isaiah had the gun. She remembered it was black in color. She knew that Isaiah pistol whipped Matt
Suspect 3: Terrence. He wore a Blue fluffy jacket, black pants. Terrence has the red car SUV Honda CRV. She recalled Terrence was told to hold Valerie in her room.
Suspect 4: "Taz" Short dreads Jeans wearing a hooded sweatshirt with Maryland flag on shirt. She saw Taz punch and kick Matt.
Evans believed that Matt was robbed because he was flaunting the drugs that he brought to her home. Evans stated that she didn't know that Riley was bringing other people to her home. She stated that Riley advised he was facing 5 years for murder, and facing child support charges. She knew that Riley calls himself "RileyMusic" on snap chat.
Police interviewed Valerie Nielson who also was arrested by the State Police regarding her knowledge of the Jnuary 12, 2017 robbery.
Nielson advised the following:
On January 12 she was at German Chapel Rd and someone got robbed at her home. She stated that Matt, who works at Ken-Mar liquors, came over to smoke marijuana with Evans. She recalled four black males, "Riley" and three of his friends, also came over. She recalled Matt saying he was leaving and the black males stated they were leaving too. She went into her room to go to bed she heard a ruckus and heard Matt say they were trying to rob us. She said the males came into her home and she was held by one of the males in her bedroom.
Neilson said that Riley had called Matt and asked to come over. She recalled Evans asking Matt is Riley could come over.
She provided the following descriptions of the suspects:
Suspect 1: Riley, black male dreadlocks but up in pony tail has some sideburns.
Suspect 2: Black male with a tan complexion, quiet, hazel eyes, black jacket, black pants, and black boots. This was the suspect she saw with the handgun.
Suspect 3: Chubby short black male with short dreads, looked young approximately 19 years old, black jacket
Suspect 4: Dark skin tone black male with dreads short with metal objects in his hair. "Red in his hair". Wearing a hoodie with the Maryland flag on it.
Neilson stated Riley called the next day and asked on speaker phone if Matt was ok. She described the gun used to be a semi-automatic that was black in color. She recalled one of the other males claiming he had a gun and threaten to pistol whip them. She saw the tall male with hazel eyes hit Matt. She recalled the males took Evans' phone and Matt's phone, money and drugs.
Based on the investigation, several search warrants were obtained by the Calvert Investigative Bureau and executed by the Special Operations Team with the assistance of the St. Mary's County Sheriff's Office.
Isaiah Marcus Jones, a juvenile was charged as an adult with Armed Robbery, Assault 1st degree, Home Invasion, Firearm use/Fel-Violent Crime, False Imprisonment, and Theft less than $1000.
Terrence Scorpio Henderson II was charged with Armed Robbery, Assault 1st degree, Home Invasion, Firearm use/Fel-Violent Crime, False Imprisonment, and Theft less than $1000.
Travious Lamar Bright was charged with Armed Robbery, Assault 1st degree, Home Invasion, Firearm use/Fel-Violent Crime, False Imprisonment, and Theft less than $1000.
Anthony Wayne Crusoe II was all charged with Armed Robbery, Assault 1st degree, Home Invasion, Firearm use/Fel-Violent Crime, False Imprisonment, and Theft less than $1000
On Monday, January 16, 2017, at approximately 1:50 am, Trooper First Class Barlow from the Maryland State Police Prince Frederick Barrack responded to the 900 block of Augustus Drive in Prince Frederick for a burglary in progress. Calvert County Control Center advised the male suspect had fled the scene. As TFC Barlow was coming into the area , he observed a vehicle traveling away from the residence. Calvert County Sheriff's Deputies blocked the roadway and contact was made with three occupants in the vehicle. TFC Barlow continued to the residence and found both victims had been injured during the incident. Medical personnel arrived and transported them to Calvert Memorial Hospital. The three suspects, Riley L. Evans, 30 and Valerie Nielson, also known as Valerie Tyner, 29 both of Prince Frederick and Decarl S. Smith, 26 of Lexington Park, were arrested and incarcerated at the Calvert County Detention Center.