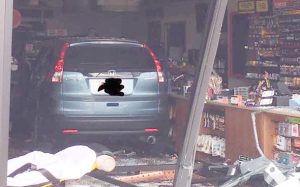 On January 24, 2017 at approximately 11:30 a.m., officers of the Charles County Sheriff's Office responded to Billingsley Road at St. Charles Parkway in Waldorf for the report of a vehicle that had crashed into the side of a convenience store.
An investigation revealed that a 66-year-old male from Bryans Road was attempting to park his Honda CRV in front of the store when he apparently mistook the accelerator for the brake and accelerated through the storefront into the building.
Once inside, the vehicle struck a 51-year-old female customer from Waldorf. The woman was transported to a hospital with serious but non-life threatening injuries. The driver was also transported with minor injuries.
The Collapse Rescue team from La Plata Volunteer Fire Department secured water and power to the building and turned the building over to police and a building inspector from the county .
The collision is under investigation by the Traffic Operations Unit.