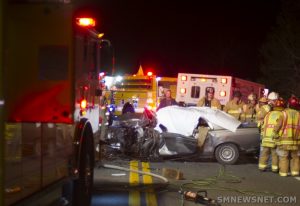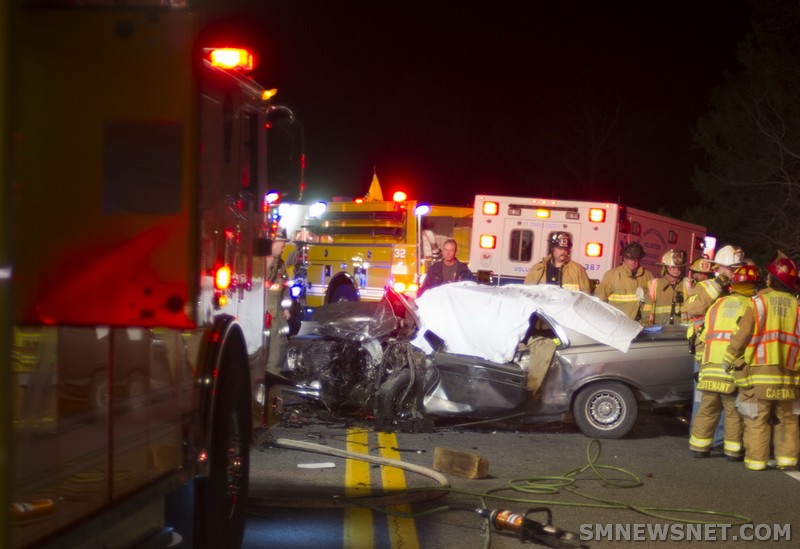 UPDATE 1/28/2017: On January 27, 2017, at approximately 8:18 p.m. patrol units from the St. Mary's County Sheriff's Office responded to the area of Three Notch Road and Poplar Ridge Road in Lexington Park for the report of a serious motor vehicle collision.
Deputies arrived on scene with emergency medical personnel to discover two vehicles in the middle of the roadway. Emergency medical personnel pronounced the two occupants of one of the vehicles deceased on the scene. Members of the Collision Reconstruction Unit responded to the scene and continued the investigation.
The investigation revealed a 2011 Ford Edge operated by Dylan Anonsen, age 24, of Waldorf was traveling northbound on Three Notch Road. A 1985 Mercedes-Benz 300 operated by Donald Daube, age 42 of Pittsburgh, PA was traveling southbound on Three Notch Road when for unknown reasons the Mercedes-Benz 300 crossed over the center line and head-on, struck the Ford Edge. Anonsen was trapped in the vehicle and had to be removed by fire personnel before being flown by Trooper 7 to Shock Trauma.
Daube and a passenger, William Moeller, age 40 of Pittsburgh, PA, were both pronounced deceased at the scene by emergency medical personnel.
Speed does not appear to be a factor in the accident. At this time, It is unknown if alcohol is a contributing factor.
Anyone with any information is asked to contact Deputy First Class Christopher Beyer at 240-925-5313.
1/27/2017: On January 27, 2017, at approximately 8:20 p.m., police, fire and rescue crews in St. Mary's County responded to a serious motor vehicle accident along Three Notch Road in the area of Poplar Ridge Road in Lexington Park.
Crews arrived on scene to discover two vehicles involved in a head on collision.
Two fatalities were reported at the scene.
One injured motorist was flown from the scene to an area trauma center.
Members of the Sheriff's Office Crash Reconstruction Team responded to the scene and assumed the investigation.
Anyone who may have witnessed the collision is asked to contact the St. Mary's County Sheriff's Office at 301-475-4040.
The investigation is ongoing and updates will be provided as they become available.