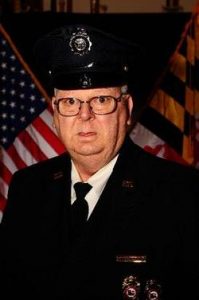 It is with great sadness that the St. Mary's County Sheriff's Office announces the passing of retired Corrections Sergeant Charles Philip Miedzinski, affectionately known as "Snookie."
Snookie retired from the St. Mary's County Sheriff's Office in September of 1999. He passed away Thursday, January 27, 2017, at his home with his family by his side. We ask that you, please keep Snookie's family in your thoughts and prayers during this difficult time.
Snookie will forever be in the hearts of those who were lucky enough to know him and spend time with him. He was beloved by those he worked with and all the community he served. He took great pride in St. Mary's County and being a member of the Sheriff's Office family, which he commonly referred to as "St. Mary's County's Finest." Snookie embodied what it means to be a public servant, not just in the years he dedicated, but more importantly, in the scores of people he inspired to serve this community and this country.
"We mourn the loss of Sergeant Miedzinski. He was an exceptionally dedicated correctional officer and served the Sheriff's Office well for thirteen years," says Sheriff Tim Cameron. "Even more, Snookie was a consummate professional, mentor and friend to all. The legacy he leaves in our community will last for years to come, and Snookie will live on in our memories forever."
Arrangements for Snookie's memorial service can be found HERE.