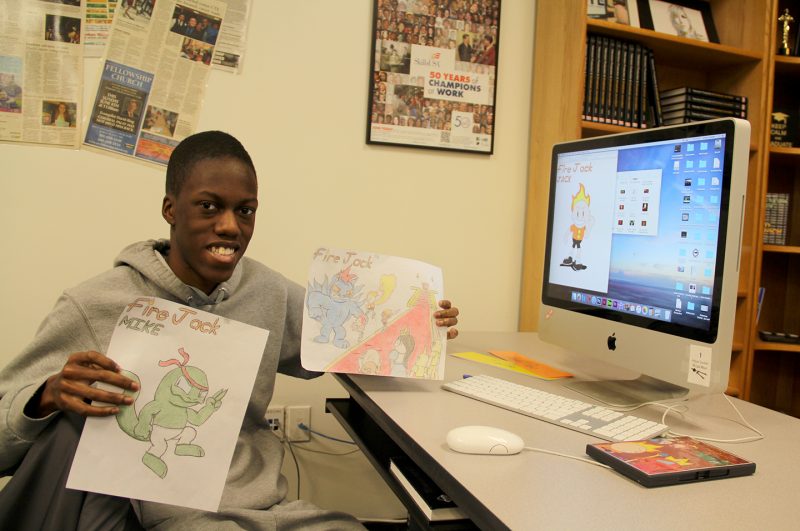 St. Charles High School junior Antjuan Goodwin dreams of becoming a graphic artist after he graduates in two years. He splits his school day between classes at St. Charles and the Interactive Media Production program at the Robert D. Stethem Educational Center, where he is learning how to make his dream come to life. Goodwin said he developed a passion for art, drawing and animation about four years ago. "I enjoy being creative and using color to illustrate drawings and make them come to life," he added.
His passion for graphic design was recently recognized by a panel of judges with the Disney Dreamers Academy, who selected Goodwin to participate in the 2017 Disney Dreamers Academy program. Goodwin is one of only 100 high school students nationwide chosen for this year's program, which provides high schoolers with experiences and mentoring to help them achieve their dreams. In his essay submitted for consideration in the program, Goodwin details his dream and determination to reach career goals.
"My dreams are to attend college, major in animation art and film design, and create animation characters and animated films for children worldwide. I also hope my determination will help inspire others," he wrote.
This year's program is planned for March 9-12 at Walt Disney World in Orlando. Participants will hear from inspirational guest speakers, participate in career-based activities with field professionals in areas such as animation, journalism and culinary arts. The Disney Dreamers Academy is in its 10th year of operation. In 2008, Walt Disney World created Disney Dreamers Academy in partnership with Steve Harvey and Essence magazine to encourage students along their path to success.
Goodwin is preparing his portfolio to take on his trip, which includes a recent class project of a DVD movie cover. He first drew the art and then created digital images of his main characters. Goodwin then tied his main characters together in a plot and summarized the movie, including film credits, on the back of the DVD cover. Kimberly Clements, Goodwin's interactive media production instructor, said the DVD cover is just one example of his amazing talent.
"He is a quiet, creative student who has a career plan and is taking all the right steps to achieve his dream. Antjuan already developed cartoon characters with their own unique backstory. He is honing his illustration and storytelling skills while learning professional software in the right classroom. I should get his autograph now before he becomes famous," Clements said.
In addition to being a skilled artist, Goodwin is an avid student athlete and member of the Unified track and tennis teams at St. Charles. He plans to continue his studies as a senior next year in the Interactive Media Production program and will soon start to learn additional graphic design software programs.