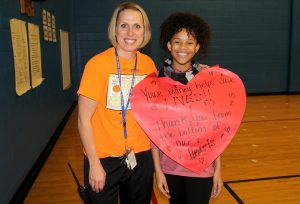 Students and staff at Milton M. Somers Middle School battled each other on the basketball court last week to benefit the American Heart Association's Hoops For Heart program. Students could donate a minimum of $2 to the cause and earn a chance to play basketball against a team of teachers.
Students were able to compete as a team if their group donations totaled more than $20. Teams were separated into sixth-, seventh- and eighth-grade students. Grade-level teams played against each other until one team per grade level was left to battle their teachers in a championship game. As a result of their efforts, Somers students and staff members raised more than $4,500.
This is the first year Somers has hosted a Hoops For Heart activity, according to Brooke Lyon, a physical education teacher at the school. Lyon said the event was a team effort among the Somers physical education department and was fun to plan.
Prior to the basketball tournaments held Feb. 10, teachers shared heart healthy activities with their classes for about three weeks. Lyon said the goal was for students to learn about the benefits of a healthy lifestyle and how bad habits and choices can affect your heart and overall health. During the basketball games, Somers eighth grader Nhyjah Taylor wore a paper heart around her neck that read, "Your money helps save lives." Taylor said she had fun participating in the event. "Everything about this is so cool. You learn what you can do to help those who are in need," Taylor said.
Aidan Jacko played on one of the eighth-grade boys basketball teams and said he signed up to participate to have fun and raise money for a good cause. "This has been a lot of fun. I get to play basketball with my friends, but it does take a lot out of you. We have learned to work on getting enough exercise, balancing what you eat and drinking enough water," Jacko said.
Lyon is impressed with the success of the event this year and hopes participation will grow each year.