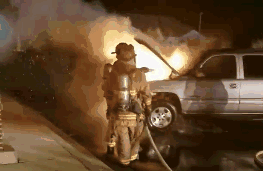 On Thursday, February 16, 2017, at approximately 9:25 p.m., firefighters from the Naval District Patuxent River Fire Department were alerted to the report of a vehicle fire on Greenview Pkwy, in Great Mills.
Crews arrived on scene to discover a SUV fully engulfed in flames.
Firefighters worked quickly to extinguish the fire.
No injuries were reported.
The cause of the fire is unknown at this time.