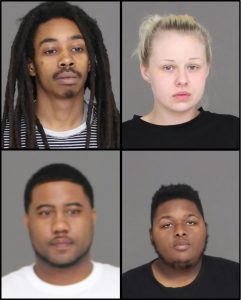 On Sunday, February 12, 2017, at approximately 10:30 p.m., officers from the Charles County Sheriff's Office responded to the 8700 block of Plenty Highlands Place in La Plata for the report of suspicious activity.
A witness observed people moving things from a vacant house.
Upon approach, officers observed a large quantity of marijuana on the kitchen counter.
Vice/Narcotics officers responded and obtained a search warrant where they recovered over two pounds of marijuana; counterfeit money; and other drug paraphernalia.
Michael Garrett Hardy, 25, of Glenn Dale; Alexandria Esposito, 20, of Port Tobacco; Gerome Lee Rogers, 25 of Port Tobacco; and William Atha Westry, 20, of Washington, D.C. were arrested and charged with possession with intent to distribute.