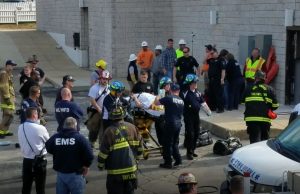 On Saturday, February 18, 2017, at approximately 10:35 a.m., Emergency personnel responded to the AMC Loews movie theater on FDR Blvd, in Lexington Park, for a report of people trapped.
Crews arrived on scene to find two male construction workers trapped under debris after an interior wall collapsed on them.
Firefighters worked for over an hour to extract the two men from the building.
A third construction worker was checked out at the scene but refused medical treatment.
A Maryland State Police helicopter flew the two patients to an area trauma center.
A representative from the Maryland Occupational Safety and Health (MOSH) was called to the scene to investigate.