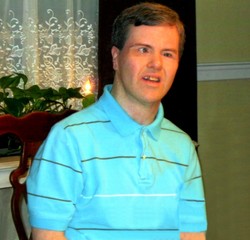 John "Jack" O'Brien, 52 of Hollywood, MD, died February 13, 2017 at Hospice House of St. Mary's in Callaway, MD.
He was born October 7, 1964 in Abington, PA to the late Roger J. O'Brien and Catherine McDevitt O'Brien.
Jack was raised in Warminster, PA until he moved to St. Mary's County in 2007. He had an artistic flair and enjoyed coloring and photography, particularly taking pictures of landscapes, sunsets and flowers. His hobbies included bowling, dancing, bocce ball, and listening to country music. He was an avid fan of the Philadelphia Phillies baseball team. He enjoyed participating in bocce ball and bowling events with Special Olympics of SOMD from 2008-2012. He was always kind and caring and was deeply loved by all who knew him.
Jack is survived by his sister, Kathleen M. Rongione (Emil) of Hollywood, MD; his brother, Michael J. O'Brien (Karen) of Feasterville, PA; his nieces Nicole Rongione of Hollywood, MD, Jamie O'Brien DiRenzo of Oreland, PA, Christine O'Brien Gordon of Warminster, PA; and his nephews, Joseph Rongione of Hollywood, MD and Matthew O'Brien of Feasterville, PA. In addition to his parents, he is preceded in death by his brother, Joseph O'Brien.
Family will receive friends on Wednesday, February 15, 2017 from 5:30 – 8:00 p.m., with prayers recited at 7:00 p.m., at Brinsfield Funeral Home, P.A., 22955 Hollywood Road, Leonardtown, MD 20650. A Mass of Christian Burial will be celebrated by Father Raymond Schmidt on Thursday, February 16, 2017 at 10:00 a.m. at St. John Francis Regis Catholic Church 43950 St. John's Road, Hollywood, MD 20636. Interment will be held on Friday, February 17, 2017 at 2:00 p.m. in Holy Sepulchre Cemetery in Cheltenham, PA.
Memorial contributions may be made to: St. Mary's Adult Medical Day Care, 24400 Mervell Dean Road, Hollywood, MD 20636. Attn: Dorothy Flynn (Bus Fund).
Arrangements by the Brinsfield Funeral Home, P.A., Leonardtown, MD.