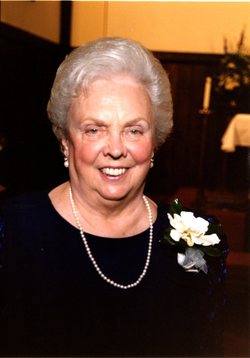 Lorraine Agnes Noonan Boyd, 93, of Chaptico, MD died on February 14, 2017, at her home, Chaptico Manor, in Chaptico, Maryland.
She was the daughter of the late James Joseph Noonan and Esther Walbor Redman Noonan and was born in Washington, DC on February 18, 1923. Mrs. Boyd attended Eastern High School and George Washington University.
On April 24, 1944 she married her high school sweetheart, William Dunbar Boyd, M.D. at St. Peter's Church in Washington, DC. Her four children, William Dunbar Boyd, II, M.D. (Duffy), Mary Evelyn Boyd-Crickmer (Tom), James Carroll Boyd, M. D. (Jennifer) and Lorraine Noonan Boyd Brewer "Bunny" (Rick), all of whom reside in St. Mary's County, survive Mrs. Boyd. She is also survived by nine grandchildren and 14 great grandchildren.
Her husband, William Dunbar Boyd, M.D. and her grandson, William D. Boyd, III predeceased her, as did her brother William Joseph Noonan and her sister Eleanor Noonan Benner.
For over 25 years Mrs. Boyd worked with her husband, Dr. Boyd, in his medical practice office located on Jefferson Street in Leonardtown, Maryland. She was also an active member of the community.
Mrs. Boyd was the 1st President of the Women's Democratic Club of St. Mary's County, later known as the Democratic Club of St. Mary's County. She was later appointed to the Historic District Commission which helped to save the cupola from Cedar Point Light House. She was a docent at the Historic St. Mary's City, giving tours in colonial costume and a charter member of the St. Mary's County Historic Society. She was an active member of the St. Mary's Hospital Auxiliary.
Mrs. Boyd and her husband has an enjoyable life together. In their younger years, they were avid sailors and enjoyed sailing the Chesapeake Bay with the Southern Maryland Sailing Association. They were members of the Wicomico Hunt Club, now known as the Del A Brooke W. Mrs. Boyd always enjoyed entertaining family and friends in her home, bridge club parties, going to the beach with family and reading. She took many fascinating trips traveling within the US, Europe and the Caribbean. She always gave good advice to go while you're young and still able to travel.
The family will receive friends on Sunday, February 19, 2017 from 2:00 till 5:00 p.m. at the Brinsfield Funeral Home, 22955 Hollywood Road, Leonardtown, MD 20650 where prayers will be recited at 4:00 p.m.
A Mass of Christian Burial will be celebrated on Monday, February 20, 2017 at 11:00 a.m.at Our Lady of the Wayside Catholic Church, 37575 Chaptico Road, Chaptico, MD 20621.
Interment will follow in St. Joseph's Cemetery, 29119 Point Lookout Road, Morganza, MD 20660.
In lieu of flowers, memorial contribution may be made to Hospice of St. Mary's, P. O. Box 625, Leonardtown, MD 20650 or the Mechanicsville Volunteer Rescue Squad, P. O. Box 15, Mechanicsville, MD 20659