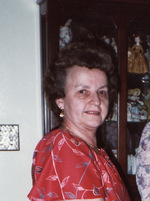 Clara Mae Thomas, 90, of Hollywood, MD passed away surrounded by her loving family on February 13, 2017 in Solomon's, MD. Born on April 9, 1926 in Hollywood.
She was the daughter of the late Mary Beatrice Wallace Mattingly and Albert Lee Mattingly. Clara was the loving wife of the late Robert Lee Thomas whom she married on March 5, 1948 in Patuxent River, Maryland, and who preceded her in death on August 27, 1993.
Clara is survived by her son Robert Leo Mattingly of Columbus, GA, granddaughter Patrice Smart (Cecil) of Panama City, FL, 3 great grandchildren, and 6 great great grandchildren. As well as her siblings; Rose "Sis" E. Adams of California, MD, Charles "Pete" Mattingly (Shirley), William "Repete" Mattingly all of Hollywood, MD, and many nieces and nephews. She was preceded in death by her son Joseph Michael Thomas, siblings: Joseph A. Mattingly, Thomas F. Mattingly, Rose Bernette Cusic, and Mary B. Cusic.
The family would like to say a "Special Thank you to the staff at Solomon's Nursing Center for caring for her for 14 years.
The family will receive friends on Thursday, February 16, 2017 from 11:00 AM – 12:00 PM in the Mattingley-Gardiner Funeral Home Leonardtown, MD.
A Funeral Service will follow at 12:00 PM in the Funeral Home Chapel.
Interment will follow in Charles Memorial Gardens Leonardtown, MD. Pallbearers will be: Bill Mattingly, Barry Mattingly, Kevin Adams, Mike Cusic, Kenny Buckler, and Gerald Adams.