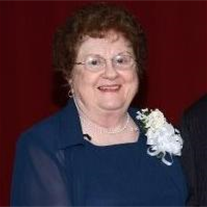 Christine O. Clagett of Accokeek, MD died February 15, 2017.
Christine came from Kansas to work for the Navy Department during WWII. She then worked for Emerson-Orme Car Dealership where she met her husband, Manning. She went on to spend the 50 years as the Office Manager with Clagett Realty and raising her family.
Wife of 69 years to Henry Manning Clagett. Mother of Lee M. Clagett (Gail), James T. Clagett, Charles E. Clagett (Maura), Richard H. Clagett (Donna), and Diane Hoesch; sister of Rosemary Hibbs; 12 grandchildren; and nine great-grandchildren.
Friends received on Tuesday, February 21, 2017 from 10AM until Service Time at 11:30AM at Christ Episcopal Church (Accokeek, MD). Interment to follow in church cemetery.
Memorials to Christ Episcopal Church Cemetery Fund. Arrangements by Raymond Funeral Service (La Plata, MD).