Community Service and Restitution Mandated; Forfeiture of Rifle and Trophy; Hunting Privileges Revoked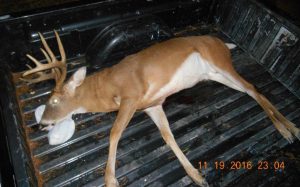 Two men became the first sentenced under a new state anti-poaching law after they were found guilty of multiple charges Wednesday in Dorchester County District Court.
Andrew Collison Harding, 21, of Vienna, and Toby Allen Hughes, 21, of Seaford, Delaware, were convicted of casting rays with an implement (jacklighting), hunting deer at night, hunting deer from a vehicle, hunting deer during a closed season, and having a loaded weapon in a vehicle.
Judge Melvin J. Jews ordered each man to pay $2,000 in restitution to the state's Wildlife Management and Protection Fund under the terms of the Poaching Restitution Act of 2016. Payment is due by March 31. Each man also must perform 80 hours of community service.
Officers on surveillance near Vienna on the night of Nov. 19 saw people in a pickup truck shine lights on a field off Maiden Branch Road. After several passes, the officers heard gunshots and the truck reappeared on the road.
They stopped the truck and saw a freshly killed 9-point buck, untagged, in the back and a rifle in the passenger compartment. Officers arrested Harding and Hughes and seized the rifle and deer.
The two men pleaded not guilty to the charges.
In addition to restitution, the judge revoked their hunting license privileges for two years. Hughes and Harding also received a six-month jail sentence which was suspended, and one year of supervised probation.
The rifle and scope used in the incident, along with the head of the 9-point whitetail buck, were forfeited to Maryland Natural Resources Police. The deer meat was donated to Farmers and Hunters Feeding the Hungry.
The anti-poaching law took effect June. It requires judges to order restitution and community service in cases of deer poaching. The monetary penalty is based on the measurement of the antlers – in gross inches – as scored on the Boone and Crockett Club system.
A buck with antlers scoring 150 or fewer points requires restitution of $2,000 to $5,000 and 80 hours of community service. A buck with antlers scoring more than 150 points requires restitution of $5,000 to $10,000 and 80 hours of community service. A deer without antlers requires restitution of $300 to $500 and 40 hours of community service.