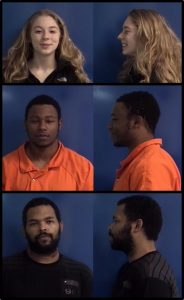 On Tuesday, February 7, 2017, Deputy R. Weems and Deputy J. Hardesty of the Calvert County Sheriff's Office, were dispatched to Pinecrest Court, in Lusby, for the report of disorderly subjects in the area.
Upon arrival they located a male and female standing in Pinecrest Court and several residents outside looking to see what was going on. A third person joined the other two and began yelling while walking away. They were asked to stop the disorderly behavior, as their actions continued to draw attention of the neighbors.
The subjects identified as Kirsten Townsend, 18, Tyree Johnson, 20, and Joshua Parker, 27, of Lusby, were all charged with Disorderly Conduct, Failing to Obey a Reasonable Lawful Order and Interfering with an arrest.
Additionally, Parker and Johnson were charged with possession of marijuana on a civil citation.