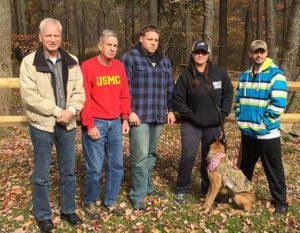 It took a few minutes for Ryan Daniels to realize what had happened.
The former Marine Corps Staff Sergeant was traveling with a convoy in May 2011 in a restive part of southwestern Afghanistan that had seen plenty of combat action. His mine-resistant ambush protected vehicle, or MRAP, had just hit a large, improvised explosive device, blowing off the front end of the massive vehicle, disorienting the crew and pelting them with shrapnel.
Moments after regaining consciousness and checking on his fellow Marines, Daniels moved himself to within his vehicle's turret and began returning fire at the insurgents.
"They had an almost machine gun-like fire trained at our vehicle," Daniels, an eight-year veteran with two combat tours now working as a Naval Air Systems Command Naval Acquisition Development Program intern, said, remembering the event. "The windshield was bulletproof, but the bullets left marks on the windshield. The windshield was covered with marks."
Following treatment for concussions, post-traumatic stress and other injuries, Daniels left the Marine Corps as a Wounded Warrior. But the memories and horrors of war sometimes still visit him in the middle of the night.
"I'm trying really hard to make the transition [to civilian life], but sometimes I have my moments," Daniels said. He said he values the support he receives from his co-workers at the Maritime Patrol and Reconnaissance Aircraft Program Office (PMA-290), where he is a logistics management specialist, as well as the support of his family.
To better help veterans understand the effects military service and combat can have on a successful transition to civilian life, Sonny Fann, NAVAIR Veteran and Wounded Warrior Program Senior Outreach Coordinator, volunteers with a program called Semper Fi Odyssey (SFO) that helps veterans such as Daniels make that adjustment.
"We help the veterans with coping skills and help them understand themselves," Fann said.  "We also give them career advice, to include resume tips, interviewing skills and immediate feedback."
Founded by a retired Marine Corps general in 2008, SFO takes place at a former Boy Scouts of America camp near Boswell, Pennsylvania. The six-day, holistic transition-assistance event is designed to prepare participants — mostly post-9/11 combat veterans — for life after military service.
Events are held throughout the year, and Fann, a two tour Vietnam War veteran, has volunteered at several of them. Daniels expects to attend an event this year as well.
Many of the volunteer team leaders have had the same struggles as the participants, Fann said. Almost all have something in common: They are combat veterans with traumatic brain injuries, post-traumatic stress, loss of limbs or other debilitating injuries.
"I can say I definitely buried some emotions and issues for some time," Daniels said.  "When I got home from Afghanistan in June 2011, I was getting married and dealing with my physical, medical and emotional issues from the deployment. That all kept me busy and out of my own head for a time. Issues persisted until 2014 when I was convinced to ask for some help. When I found out how messed up I really was, and I was failing in my relationships, that's what made me start looking into some of these retreats."
SFO offers a variety of tools to teach veterans – broken into groups of three or four people like fire teams – how to make a successful, productive transition from the military to civilian life, despite their illnesses and injuries, Fann said.
"The end-game in Semper Fi Odyssey is to help them understand they still have value, despite what has happened to them," Fann said. "The attributes all veterans have, along with their life experiences, which cannot be replicated anywhere else, makes them valuable assets for the NAVAIR mission."
One thing participants learn is how to write a personal and professional goal-oriented operations order, also known as a Situation, Mission, Execution, Administration, Command (SMEAC), to set objectives and hold the warriors accountable for their results. The SMEAC at SFO is written based on the preamble to the U.S. Constitution.
"Everyone in the military understands an op order, so we use something that is familiar for the veterans," Fann explained.
SMEAC helps participants:
Analyze their situation.
Set their mission.
Determine the steps to execute.
Administer the steps.
Communicate the actions needed to complete their mission successfully.
Included in SFO is a trip to the Flight 93 National Memorial in nearby Shanksville, Pennsylvania.
"It is important that service members understand the reason that their sacrifices are so important to our nation's defense and that they are valued. This is where the War on Terror started and why so many veterans wanted to serve," Fann said.
"One of my favorite quotes from President George Washington really encapsulates what drives me to help veterans," Fann said. "Washington said, 'The willingness with which our young people are likely to serve in any war, no matter how justified, shall be directly proportional to how they perceive the veterans of earlier wars were treated and appreciated by their nation.'"
"I basically just hope to talk about things and get things off my chest," Daniels said.  "I've had to deal with some pretty gnarly stuff. So being with people who have been there, who understand, and who care will really make a difference (for me)."
"There is no shame in seeking assistance," Fann said.  "Rather, it's a sign of strength.
"This is a tragic lesson learned from Vietnam era veterans and resulted in significant challenges and a high suicide rate, which the SFO seeks to combat," he said "This program literally saves lives."
NAVAIR wounded, ill and injured veteran employees can contact Fann at [email protected] if they believe they can benefit from SFO.