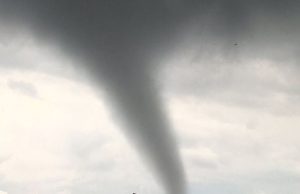 The National Weather Service in Baltimore MD/Washington DC has confirmed a tornado near La Plata and Waldorf in Charles County MD on February 25 2017.
National Weather Service personnel completed a ground survey along with radar analysis and concluded a tornado that peaked at low-end EF1 intensity with winds of 90 MPH produced damage along a 8.4 mile path…beginning near the intersection of U.S. Route 301 (Crain Highway) and Rosewick Road in north La Plata MD. The tornado then moved northeast lifting near the intersection of St. Peters Church Road and Gruss Farm Place in east Waldorf.
Along the tornadoes path…numerous trees were observed to have been snapped, uprooted, and toppled in multiple directions. The fallen trees downed many power lines and blocked multiple roads. Some trees and large branches also fell onto homes and garages. Minor roof damage was also observed with the removal of shingles and eaves. Some loss of insulation was observed near where the tornado peaked in intensity.
Initial concentrated path of tree damage was observed near the Rosewick Crossing Shopping Center. A narrow path of tree damage then continued northeast near White Plains Village…where minor roof damage in the form of loss of shingles and eaves was observed to several homes. The tornado then continued northeast crossing Billingsley Road near St. Charles Parkway…where more tree and minor roof damage was observed.
The tornado continued further northeast…peaking in intensity near the Smallwood Village Shopping Center and Huntington Townhouses…where the low-end EF1 damage and maximum path width of 125 yards was observed. Numerous trees were observed down across these areas with multiple instances of shingle, siding, and eave damage. It was in this area where some loss of roof insulation was observed. A light post was blown over and some windows were also blown out. Just to the northeast a car port was lifted and collapsed on a few automobiles.
The tornado then continued to create areas of minor roof and tree damage as it moved northeast…passing just to the north of the St. Peters Catholic Church…beyond there damage became more spotty…with the tornado likely lifting just to the northeast of the church near St. Peters Church Road.
The damage coincided perfectly with a tornadic signature on NWS and FAA doppler radars.
Very little damage was observed outside of the tornadoes track across La Plata and Waldorf…with at most some spotty minor tree damage.
Location: La Plata and Waldorf in Charles County MD
Date: February 25 2017
Estimated Time: 3:06 PM to 3:17 PM EST
Maximum EF-Scale Rating: EF1
Estimated Maximum Wind Speed: 90 MPH
Maximum Path Width: 125 yards
Path Length: 8.4 miles
Beginning Lat/Lon: 38.5551N / 76.9841W
Ending lat/Lon: 38.6275N / 76.8583W
Fatalities: 0
Injuries: 0
2/26/2017: The Charles County Sheriff's Office has not received any reports of injuries or major structural damages. The hardest hit area seemed to be along the St. Charles Parkway from La Plata to Waldorf and areas nearby. The CCSO, along with county government, Department of Emergency Services, Waldorf VFD &EMS, Public Works, MSP, La Plata Police and other personnel quickly mobilized a command center and directed resources to the impacted areas. Our first priority was to make sure people were safe and unharmed. Officers also directed traffic in areas with out signals and assisted public works in removing downed trees and debris from roadways. Damage is still being assessed. Most roads are open now. We will update as necessary. Thank you.
2/25/2017: Preliminary reports that a storm that passed through affected several areas of St. Charles Parkway from La Plata to Route 5.
Some trees down and debris on roadways. So far, no calls for injuries.
Please avoid traveling on St. Charles Parkway and area of Rosewick Road at Washington Avenue. Please continue to monitor your weather stations.
We will update more when we can. Thank you.