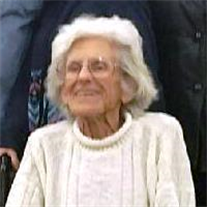 Ruth B. Robinson, 91, of Lusby, Maryland died on February 19, 2017 at the Laurel Regional Hospital.
Born on August 25, 1925 in Sullivan, Missouri, she was the daughter of the late Robey T. and Leslie Roderick. Mrs. Robinson was a secretary for the United Food and Commercial Workers Union (UFCW). She enjoyed reading, doing crossword puzzles, landscaping, and spending time with her grandchildren.
In addition to her parents, she was preceded in death by her husband Robert Robinson; son James Michael McLaughlin; siblings Dora Mae Meyers and Walt Roderick.
She is survived by her children Katherine Ann Swartz and John McLaughlin; siblings Charlotte Childress, Earl and Robert Roderick; grandchildren Richard Swartz, Michelle and James McLaughlin; 16 great grandchildren; eight great great grandchildren.
A visitation will be held on Saturday, February 25, 2017 from 6 PM to 8 PM with services at 7 PM at the Raymond Funeral Service, P.A. 5635 Washington Avenue La Plata, Maryland 20646.
Interment will take place at a later date at Cheltenham Veterans Cemetery.
To send flowers or a memorial gift to the family of Ruth B. Robinson please visit our Sympathy Store.