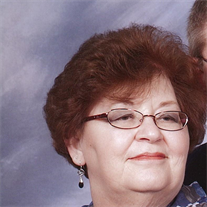 Nina Jane Gressens, 75 of La Plata, Maryland died February 20, 2017.
Nina was a member of Good Shepherd United Methodist Church in Waldorf where she was also an active member of the United Methodist Women where she held office as President and Treasurer for a number of those years.
She was the daughter of Gilbert L. Wilson and Vera Pierce Wilson. In addition to her parents, she was preceded by her brother, Paul Wilson and sister-in-law, Winona Jean (Williams) Wilson and her brother Glen Wilson.
She is survived by her husband, Kenneth C. Gressens; her son, Christopher K. Gressens; her daughter, Julie Ann (Howell) Taylor; her brothers, Ernest L. Wilson, Troy J. Wilson; her honorary brother, Carlos Mencias; her sisters-in-law, Beverly A. Wilson and Gwendolyn Dean; and her grandchildren, Zachary O. Taylor and Zavier F. Taylor. She is also survived by a number of aunts, uncles, nieces, nephews, great nieces and nephews, and cousins.
Friends received on Friday, March 3, 2017 from 9:30AM until time of Memorial Service at 11AM at Good Shepherd United Methodist Church in Waldorf, Maryland.
Memorial contributions in Nina's name are asked to Good Shepherd United Methodist Women, 305 East Smallwood Drive, Waldorf, Maryland 20602.