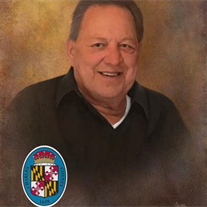 John "Glen" Strobel, 65 of White Plains, Maryland, died February 20, 2017.
Glen was a softball player and coach with the Waldorf Little League and was an outstanding drummer with many local bands. He was the longest serving employee (43 years) with the Charles County Government. Glen enjoyed his Gold Wing motorcycle and his motorcycle friends. He was a great dad and loved being with his family, especially his grandchildren.
He was the son of Edward John Strobel and Ruth Eleanor Wallace Strobel. In addition to his parents, he was predeceased by his wife, Betsy Jane Mitchell Strobel; his siblings, Joseph Strobel, Philip Strobel, Mark Strobel, Barbara Gray, and Courtney Good; and his step-mother, Mary Strobel.
He is survived by his son, John G. Strobel, Jr. and beloved companion, Judy Lee Labille; his daughter, Jill A. Dunnington and husband Eldrich; his brother, Steven Strobel; his sisters, Margaret Rollins, Gloria Moody, Rose Goldsmith, Ruth Romestan, and Mary Helen Moody; his step-brothers, Willie Good, Raymond Good, Richard Good, and Ralph Good; and his grandchildren Daquan, Darian, Marissa, and John III. He is also survived by numerous nieces, nephews, and cousins.
Friends received on Wednesday, March 1, 2017 from 2-4PM and 6-8PM at New Life Wesleyan Church, 9690 Shepherd's Creek Place, La Plata, Maryland 20646 and where Funeral Service will be held on Thursday, March 2, 2017 at 11AM. Interment United Methodist Church Cemetery in Dentsville, Maryland.
Memorials in Glen's name may be sent to American Heart Association.