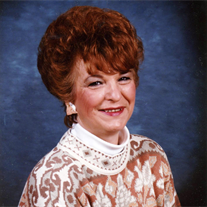 Amelia Virginia "Millie" Suite of Port Tobacco, Maryland, died on February 20, 2017 at SagePoint Senior Living in La Plata. She was 74 years old.
Born on February 20, 1943 in Washington, DC, she was the daughter of the late Virginia Fritter and George Niedomanski. Amelia worked at the V.F.W. in Bel Alton, the former Ben Franklin in La Plata, the Fish Market in Old Town Alexandria, as a waitress and bartender at various restaurants. In her spare time, she enjoyed doing all sorts of crafts, including quilting and crocheting. She even won several ribbons from her entries in the County Fair. And she was a fabulous baker who created delicious treats and an excellent gardener. In her later years, she devoted most of her time at the Clark Senior Center in La Plata.
She is survived by her companion of 33 years, Earl "Jimmy" Flesher; sons David A. Suite, Kevin W. Suite and Brian S. Suite; sister Janet Niedomanski; former daughter-in-law Donna Suite; granddaughters Amy Suite and Vickie Duke; great granddaughters Alyssa and Lillian.
A visitation will be held on Saturday, February 25, 2017 from 10 AM until 12 Noon with Funeral Service beginning at 12 Noon at the Pisgah United Methodist Church 7020 Poor House Road Indian Head, MD 20640 with the Reverend Jeanne Parr officiating. Interment to follow at the Chicamuxen Church Cemetery 6255 Chicamuxen Road Indian Head, MD 20640.
Memorial contributions may be made to the Richard Clark Senior Center 1210 Charles Street La Plata, MD 20646.