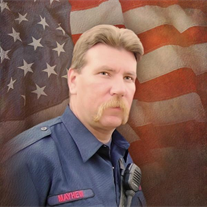 Glenn Charles 'Brawny' Mayhew, of La Plata, MD, died peacefully surrounded by family and friends on February 21, 2017. He was born August 31, 1959 in Washington, DC.
He was the son of Louis Charles Mayhew and the late Elizabeth Ann Tompkins and was preceded in death by his step mother, Jessie English Mayhew.
Firefighter Glenn Mayhew was hired by the Arlington County Fire Department February 18th 1992, Graduating as a member of Recruit school #45 in June 1992. Glenn Graduated as the Class Valedictorian, with the highest overall GPA. Firefighter Mayhew was assigned to Arlington County fire station 9 completing his probation there. Glenn Spent many years on the Rescue Company as a driver/operator and senior firefighter serving the citizens of South Arlington and the entire Northern Virginia Area. Glenn responded to the events of 9-11 at the Pentagon serving several days there. Throughout the years Glenn's gentle giant demeanor served him well, passing his knowledge and skills to future generations of firefighters. Glenn Retired from the Arlington County Fire Department in 2012 with his last assignment being at Engine 108 on C platoon. Glenn loved working in yard, riding his motorcycle, and drinking Budweiser at Ape Hangers. He was a member at the local H.O.G chapter.
He was survived by his loving wife of 33 years, Dina Mayhew, and his two sons William Mayhew (Jennifer) and Sean Mayhew (Crystal Stewart); his sister Donna Strain (Byron), step-sister Debra McEachern (Richard), step-brother Steven Miller (Patricia); his granddaughters Kaitlyn Rae Mayhew and Chloe Elizabeth Mayhew.
Friends received on Tuesday, February 28th, from 9-11:30am with Firefighters prayers at 10:50am. Prayer service at 12 noon at La Plata Fire Department, 911 Washington Ave, La Plata, MD. Procession and repass to follow.
Memorial contributions can be made to Hospice of Charles County, La Plata Fire Department, and Waldorf Fire Department.