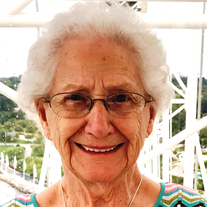 Clara M. Olszewski, 93, of Cheltenham, Maryland, died on February 22, 2017 at the Charles County Hospice House in Waldorf, MD.
Born on September 21, 1923 in Burlington, Kansas, she was the daughter of the late Nellie and Floyd Wright. She served in the U. S. Air Force from 1943 to 1946 and lived in Toledo, Ohio for a brief time when she reentered the Air Force in 1947. She met her husband and was married on March 6, 1948. She was Honorably Discharged from the Air Force in 1951 at the rank of Tech Sergeant. Mrs. Olszewski then worked for Landsburgh Department Store in Washington, DC as Personnel Director. She enjoyed knitting, crocheting, painting and reading.
In addition to her parents, she was preceded in death by her husband Louis D. Olszewski; grandson Robert Ryan Warring; siblings Delores Neely and Wayne McCormick (Dorothy).
She is survived by her daughter Mary O. Henson and her husband Gary; grandchildren Shannon Henson and Russell Lee Henson (Yolanda) ; great grandchildren Ryan Andrew Warring and Kyle Hopper; great great granddaughter Jessica Warring; also numerous nieces and nephews.
A gathering of family and friends will be on Saturday, March 4, 2017 from 3 PM to 5 PM at the Raymond Funeral Service, P.A. 5635 Washington Avenue La Plata, MD 20646.
Service and interment will be held at a later date at Arlington National Cemetery.
Memorial contributions may be made to Alzheimer's Association P.O. Box 96011
Washington, DC 20090-6011.