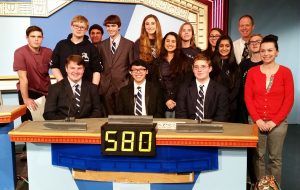 The La Plata High School It's Academic team advances to a semifinals playoff match, set for this Saturday, March 4, as winners of a regional competition recently held at NBC4 studios in Washington, D.C. The team of Captain Justin Cortez, Michael Gill and James Hume earned a total of 580 points in a match against Benjamin Banneker Academic and George Mason high schools held Feb. 18.
The team faces students from Rockville and Langley high schools March 4. Cortez is a senior at La Plata and has been a member of the It's Academic team since he was a freshman. He has been one of the three students who compete at the televised event since 2014. Gill is a sophomore and joined the It's Academic team as a freshman last school year. Hume is a junior at La Plata and this is his first year on the team. This is the first year for both Gill and Hume to join the team that competes in the actual televised event.
Other members of the La Plata It's Academic team include Trevor Jansen (alternate), Alexis Chambers, Zhiqi "Chelsea" Chen, Garrett Cooksey, Mikayla Johnson, Katelyn Kluh, Marian Marteja, Se Eun "Grace" Na, Aashka Patel, Nicholas Shutters, Tyler Simm, Margaret Stine, Jasmine Washington and Omar Yunis.
John Holmes, testing coordinator at La Plata, and Michelle Schoenbauer, a social studies teacher at La Plata, are the It's Academic team coaches.
The team that wins first place at the Charles County competition advances to the regional level of play. This is the fourth consecutive year that the La Plata team has advanced to the regional event, and the first in at least four years that La Plata has qualified for a semifinals match.
The Feb. 18 match will air on NBC4 April 8 and the semifinals match taping this Saturday will air May 27.