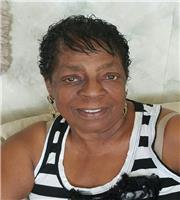 Mary Rita Barber, 74 of St. Inigoes, MD, slipped into the arms of her heavenly Father, on Friday, February 24, 2017, at Southern Maryland Hospital in Clinton, MD. ""Marita"" or ""Rita"", as she was affectionately known, was born in Baltimore, Maryland on May 27, 1942 to the late Charles Henry and Sarah Marie Milburn. She received her education from Cardinal Gibbons Institute in St. Inigoes, MD. Mary Rita was a member of St. Peter Claver Catholic Church and the Knights of St. Jerome. Mary Rita married her beloved, late husband, Joseph Allen Barber on June 19, 1970.
In July 2005, Mary Rita retired from the St. Mary's County Public Schools, as a Building Service Worker. She continued working after retiring for Latin American Service Incorporated as a Housekeeping Aide. She also worked as the Head Cook at Scheible's Restaurant and shucked oysters and picked crabs.
Mary Rita loved her family and treasured her friends. Mary Rita touched the lives of many people with her smile and generosity and maintained a sense of humor all the way to the end. Mary Rita had a way of making everyone feel like family. She will be remembered for her quick wit and her contagious smile. Mary Rita enjoyed watching and cheering for her favorite football team, The Washington Redskins. She also enjoyed traveling, going to Casinos, Bingo, and just hanging out having fun with her family and friends.
She was preceded in death by her parents, Charles Henry and Sarah Marie Milburn; her husband, Joseph Allen Barber; one sister, Hilda Mae Barnes; two brothers-in-law, Earl Barber and Lawrence Carter; two sisters-in-law, Margaret Young (Lawrence) and Agnes Nolan.
Mary Rita leaves to cherish her memory seven children, Alice Gaskin (Alonzo), Renee Hopewell, Louise Milburn, Delores Ford (Lonnie), Doris Milburn, Joseph Milburn Sr. (Darlene), James Barber (Rose); four step-daughters, Rachael Thomas (Ronnie), Jenny Bush, Pamela Herbert, Margaret Gladden; three step-sons, Joseph Butler, Mark Herbert (Lorna) and Frank Curtis, twenty-one grandchildren, twenty-three great-grandchildren; one sister, Catherine Carter; three brothers, Charles Milburn, George Milburn (Libby) and Joseph Milburn; one brother-in-law, Paul Barber (Lucy); one sister-in-law, Theresa Morgan and a host of nieces, nephews, cousins, in-laws friends and especially her dear cousin/best friend, Agnes Crafton. Mary Rita and Agnes were like two peas in a pod, they were more like sisters than cousins. She also had four God-children, Stewart Carter, Sean Miles, Dwight Smith and Joseph Young.
Family and friends will unite on Saturday, March 4, 2017 for visitation at 10 am until Mass of Christian Burial at 11 am at St. Peter Claver Catholic Church, 16922 Saint Peter Claver Rd, Saint Inigoes, MD 20684. On Wednesday, March 8 @ 9:30 am, interment will be at Cheltenham Veterans Cemetery, Cheltenham, MD.