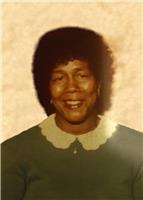 Jane Idola Dotson, 83 of Mechanicsville, MD, passed away on Wednesday, February 22, 2017.
She was born on July 2, 1933 to the late Ernest Dotson and Elnora Barnes.
Jane is survived by her children, Martina Dotson-Brown (Rick), Idola Scimeca, Debra Dotson, Mary Dotson, William Dotson, Gale Dotson and Robert Dotson; siblings, Mary Johnson, Artina Miles, Regina Price, Anthony Dotson and Michael Dotson, 18 grandchildren and 11 great grandchildren.
Visitation will be on Thursday, March 2, 2017 at 9:00 am until Mass of Christian Burial at 10:00 am at Immaculate Conception Church, 28297 Old Village Rd, Mechanicsville, MD.
Interment to follow at Charles Memorial Gardens, Leonardtown, MD.