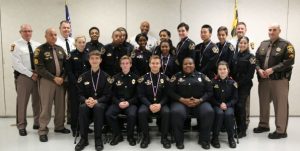 The Charles County Sheriff's Office is pleased to recognize the Criminal Justice Students at North Point High School for their outstanding efforts during the first stages of the 2017 SkillsUSA competitions, in which they performed well enough to advance to state competitions later this year.  On February 4, sixteen students from North Point competed against students from the Criminal Justice Program in St. Mary's County at the SkillsUSA Regional Competition. The competition was divided into two categories: Criminal Justice and Crime Scene Investigations.
During the Criminal Justice portion, students were challenged on an individual basis and were scored on how well they handled a traffic stop, a burglary in progress, and a disturbance call. There was also a written test. Aidan Oakes won first place, Logan Steele won second place, and Jakob Gammons placed third, qualifying all three students for the State Competition.
The Crime Scene Investigation portion of the competition consisted of three-man teams who were scored on their ability to process a crime scene. Brandon Rodriguez, Ethan Snider, and Jackie Zheng won first place, and Jabria Miles, Shawna McCarter, and Nadia Corbett took third, qualifying both teams for the State Competition.
"I'm so proud of these students," said Master Corporal Rhett Calloway, who heads the Criminal Justice Program at North Point High School. "They dedicate themselves to this program all year, and it's so rewarding to see them shine at these competitions."
"One of the most important missions of the CCSO is our investment in the local youth through efforts such as the Criminal Justice program, summer youth camps, and the Explorers," said Sheriff Troy Berry. "These high school students are the young leaders of today, and our investment in them will pay big dividends as they pursue law enforcement opportunities in the future."
The 44th Annual SkillsUSA Maryland Leadership and Skills Conference will take place on April 29 in Anne Arundel County. Information about SkillsUSA and the competition can be found at mdskillsusa.org.