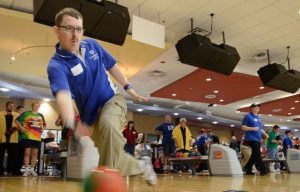 Sixteen Sailors from across NAS Patuxent River volunteered their services at the 2017 District of Columbia Special Olympics Bowling Championship, which took place Feb. 22 and 23, in Hyattsville, Maryland.
For two days, from start to finish, the Sailors helped out wherever they were needed, kept score, and interacted with and provided encouragement to the participating athlete bowlers vying for medals in the competition.
"We were assigned various jobs that included helping to set up and break down the event, handing out medals at the award ceremonies, announcing the winners, and cheering for them," said Chief Aviation Structural Mechanic Rafael Custodio, installation training officer for Pax River.
Volunteers said it was almost as much fun for the them as it was for the participants.
"It was a lot of fun working with [the athletes] because when I see them having a good time, I have a good time," explained Electronics Technician 2nd Class George Kemp, with NAS Patuxent River Ground Electronics Maintenance. "I like going out to do community service and I like assisting others. It makes me feel good to see them out having a good time, doing what they like to do, and I'm happy to help that happen."
Approximately 75 Special Olympic athletes took part in the competition with more than 70 volunteers from each branch of the military service.