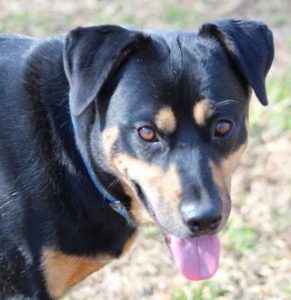 Wednesday's Pet for 3/8/17 NICK
Featured Pet: Nick
Rescue Group: Pets with Disabilities
Disability: 3 legged
Breed: Lab/Rottweiler Mix
Sex: Male
Size: Medium (40 pounds)
Vetted: Neutered and Up-to-date with routine shots
Adoption Fee: $300.00
Nick is a 4-year-old Lab/Rottweiler Mix. Three years ago, he was hit by a car and suffered severe trauma to his right front leg. When helped arrived Nick was a complete gentlemen and happy to receive human help. After his recovery Nick was quickly adopted by a wonderful family. Sadly, Nick has been returned to the safety of Pets with Disabilities due to a family illness. He returned where he left off, just a bit older and wiser. He is housebroken, playful, and a happy go lucky boy. Nick has the alertness and loyalty of a Rottweiler. He comes in quickly when called and loves to be around people. He would do great as an only dog or with some playful fun dogs. He is a sweet dog and ready to share his 3 legged spirit with another family.
If you are interested in meeting him, please complete an Application
http://www.petswithdisabilities.org/adoptionapplication.doc and email it to [email protected].
A little bit of breed information:
The Rottweiler is loyal and protective. The breed is a natural guard dog with a laid back, reliable temperament. They have proven their intelligence beyond question in police, military and customs work.
The Labrador is loyal, loving and affectionate. They make wonderful, good-natured family pets. Very willing to please with reliable temperaments and are wonderful with children.
"He is your friend, your partner, your defender, your dog. You are his life, his love, his leader. He will be yours, faithful and true, to the last beat of his heart. You owe it to him to be worthy of such devotion."
– Unknown