Celebrate our favorite museum mammal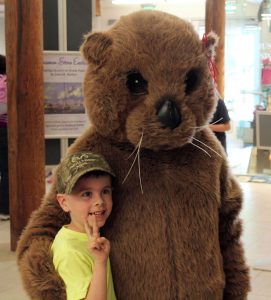 Celebrate everyone's favorite museum mammal during OtterMania at the Calvert Marine Museum on Friday, March 31 from 10 a.m. – 4 p.m. Enjoy "otterly" outrageous activities, face painting and meet the otters: Chumley, Chessie Grace and the newest addition, Calvert. Museum admission applies; FREE for CMM members. $2 donation requested for face painting.
Perfect for families with pre-school and elementary age children, OtterMania invites kids to dance the "Swim" with the otter mascots, learn how the otters are trained, and listen to otter tales from an "otterly" terrific story teller. Meet the Otter Keepers at 11 a.m. and 3 p.m. and watch an otter training session at 3 p.m. to learn these animals are trained to show behaviors throughout the day.
Back by popular demand is the Otter Breakfast at 9 a.m. Learn about otter enrichment and their habitat. Go behind the scenes to speak with a keeper and observe a feeding. A continental breakfast will be provided. Children must be at least 8 years old and accompanied by an adult. Space is limited, preregistration is required. Fee is $20 per person, $15 for members and includes museum admission. Email Melissa at [email protected] to register for the breakfast.
The Museum Store is stocked full of "otter" merchandise including wearables, toys, puppets and mugs. Visit the Museum Store during OtterMania and guess how many otters we have stuffed in our display case! The closest guess without going over wins a FREE plush otter! One guess per visitor please. Winner announced at 3 p.m. and you do not need to be present to win. Members save 10% in the Store every day, and 20% off on the 20th of every month.
Join the Search! Use #ISpyOtters to show us where you find River Otters. Google + @CalvertMarineMuseumMD, Instagram, Facebook, and Flickr @CalvertMarineMuseum and follow us on Twitter @TheMarineMuseum. #OtterMania #CalvertMarineMuseum