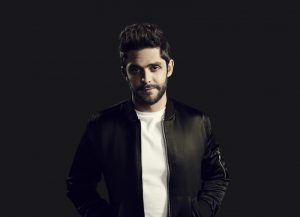 Multi-Platinum country artist Thomas Rhett will perform live at the Calvert Marine Museum's PNC Waterside Pavilion on Friday, July 14 at 7:30 p.m. Rhett's high energy show will be packed with hits, including chart toppers, "T-Shirt," "Die A Happy Man," and "Crash And Burn."
Tickets are $44 – $75 (additional fees apply) and go on sale to members of the Calvert Marine Museum on Tuesday, March 28 at 10 a.m. and to the general public on Tuesday, April 4 at 10 a.m. If you are not a member of the museum and would like an opportunity to buy the best seats in the house, visit www.calvertmarinemuseum.com or call 410-326-2042, ext. 16 to sign up before tickets go on sale.
Years before Thomas Rhett kicked off his career with It Goes Like This, a debut album that spawned five Top 40 hits and three number one hits, Rhett spent his childhood listening to a variety of music. Rhett remembers "growing up, there was no such thing as listening to one radio station…I don't know how to write just one style of music." His latest album, Tangled Up, is filled with party anthems, dance tunes, drinking songs, and love ballads. His shows are uptempo, exciting, and completely unpredictable. There is no such thing as standing still and just singing a song for Thomas; he loves jumping into the crowd and dancing.
Proceeds from the Waterside Music Series support the education and preservation efforts of the Calvert Marine Museum. This series of events would not be possible without the generous support of many local businesses. Sponsors include: Prince Frederick Ford/Jeep/Dodge, PNC Bank, Bozick Distributors, Inc., Tidewater Dental, Sunshines Catering, Directmail.com, Holiday Inn Solomons, Quality Built Homes, 98.3 Star FM, Bay Weekly, Quick Connections, Southern Maryland Newspapers, Isaac's Restaurant, Papa John's Pizza, O'Brien Realty, American Eagle Electric, Sherry Carter, United Rentals, Kelly Generator & Equipment, Comcast, Metrocast, ECS Federal, Blue Crabs, TitleMax LLC., World Gym, and Asbury-Solomons.
Gates open at 6 p.m. with food and drinks available on the grounds. Showtime is 7:30 p.m. Chairs and coolers are not permitted. For additional information, please visit the website at www.calvertmarinemuseum.com. To reach a staff member, please call 410-326-2042, ext. 16, 17 or 18.