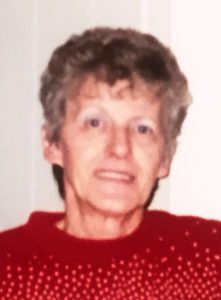 Loretta Ann (Cleary) Groves passed away peacefully on March 16, 2017 at Calvert Memorial Hospital after a short illness. She was born in Washington, DC on July 9, 1932, and spent most of her life in Mitchellville, MD, living close to her large family, raising four daughters with her husband Jimmy, and working for the Prince George's County Board of Education. She was a proud member of the Notre Dame Academy (class of 1950) in Washington, DC, and still kept in touch with her former classmates, coordinating their regular reunions. After retirement, she moved to Lusby, MD where she remained active in the community, volunteering at SMILE ministries and participating in many activities at the Southern Pine Senior Center. She was an avid bridge player and she loved reading, detective shows, researching her family genealogy and doing jigsaw puzzles with her grandchildren. She was preceded in death by her parents, George and
Anne Cleary, her brother Joe Cleary and her son-in-law Marty Spelman.
She leaves behind her husband of nearly 65 years, Jimmy Groves of Lusby, MD, and her four daughters and their families: Cynthia (Groves) Miller and her husband Mark Todd of Huntingtown, MD, Susan (Groves) Crutchfield and her husband Alan Crutchfield of North Beach, MD), Diane (Groves) Spelman of Lothian, MD and Linda (Groves) Gregory and her husband Dick of Hughesville, MD; seven grandchildren and twelve great-grandchildren. She is also survived by four brothers: Frank Cleary and his wife Janet of Owings, MD, Dick Cleary and his wife Nan of Beckley, WV, Jim Cleary of Huntingtown, MD and Bob Cleary of St. Leonard, MD, and two sisters: Pat (Cleary) Conway of San Jose, CA and Maureen (Cleary) Curtis and her husband Pat of Owings, MD, and their families.
Time of Service: 3/23/2017 10:00 AM
Service Location: Jesus the Divine Word Catholic Church