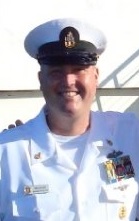 Our beloved Abraham Meagher, retired Senior Chief Petty Officer of the United States Navy, died 9 March 2017. He is survived by his loving wife Karen, his mother Mary; 5 siblings: Mary, Evelyn, Kenneth, Martha, and David; 5 nieces whom he loved as if they were his own daughters: Veronica, Mary, Maddy, Caroline, and Grace; a large extended family, and friends to include, especially, his fellow shipmates and sailors whose bond was profoundly meaningful to him.
Abe was born and raised in a suburb of Rochester, New York, an ideal place to grow up which he often described as, "growing up in Mayberry". He moved to Dublin, Ohio during high school and joined the U.S. Navy upon graduation. He served with distinction for 23 years: shore duty and sea duty, at peace and at war, from the Pacific to Europe to the Mediterranean, the Desert and the Gulf. A true Navy Chief, Abe lived the motto, "Sailors Come First" as he navigated the difficult position of liaison between Officers and Enlisted. He dedicated himself to the effort of "making it better for them (the younger generation of sailors) than he had it".
Abe loved the adventure of traveling the world, experiencing different cultures and customs, absorbing the scenic grandeur of various countries, but mostly, his favorite part was eating a variety of local foods and sampling the local beers.
Although he was not always willing or able to express it, Abe loved his family, friends and shipmates deeply. Those of us who were lucky enough, we know what that bond means to us still. Abe's favorite thing to do was to make people laugh. Ah, the stories he could tell… the silliness and the mischievousness…
Abe was a true and pure light in this world, a good man to the core, a beautiful soul with a sparkle in his eyes. Abraham J. Meagher, you are missed beyond all comprehension.
"Should friends desire, donations may be made in Abe's name to the Martinsburg Veterans Affairs Medical Center. To make a donation, please call the medical center's Voluntary Service office at 304-263-0811 ext. 3309 or email [email protected]."
Fair winds and following seas. Godspeed.