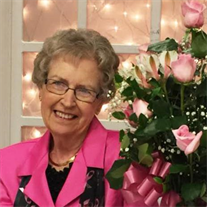 Roberta Jean Kieliger, age 81, of La Plata, MD, passed away March 14, 2017 at home from causes related to MDS, a long-term illness.
She was born in Binghamton, NY in 1936 and is survived by her husband, Robert Kieliger; daughter, Cindy Beck; sisters, Mary Smith and Kathy Busick; grandson, David Beck; and great-grandchildren, Cameron Beck and Addy Beck.
Roberta was married in Alaska in 1954 and lived in many different states with her husband, Bob, who is retired Air Force. She was a breast cancer survivor for over 20 years. She worked tirelessly in St. Mary's County and Charles County for breast cancer victims and for related research. She is the recipient of many awards and honors for her years of dedicated service and will be greatly missed. A scholarship for those studying in the medical field has been established in her name at the College of Southern Maryland.
In lieu of flowers, the family requests that donations be made to the Roberta Kieliger Sisters at Heart scholarship fund. Contact Chelsea Brown CSM (301-934-7649).
A Life Celebration and luncheon will be held on March 24, 2017 at 11AM at the Jaycee's Hall in Waldorf, MD. Please RSVP at the website: Roberta.PixelThin.com.