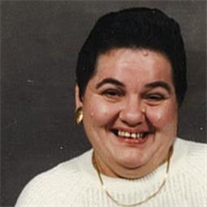 Bonnie Gaye Burch, age 72 of La Plata, Maryland, died March 13, 2017 at the University of Maryland Charles Regional Medical Center in La Plata, Maryland.
Bonnie was a homemaker and was of the Baptist faith. She was also a grandma who loved Elvis.
She was the daughter of Lawrence Lincoln Lindsay and Leona Theodorisha Jewel Lindsay. In addition to her parents, she was also predeceased by her husband, David R. Burch; her daughter-in-law, Sharon Burch; her brothers, Leslie Lindsay, Roy Lindsay, Dale Lindsay, and Wayne Lindsay; and her sisters, Harriett Lindsay and Donna Babier.
She is survived by her sons, David Ricky Burch and Wayne Burch; her daughters, Brenda Morrell, Kathy (Burch) Willett and husband Tommy, and Carol Burch; her brothers, Paul Lindsay and Jerry Bubier; her sisters, Joyce Rush, Betty Dubica, and June Bubier; and her grandchildren, Tyler, Rebecca, Patrick, Samantha, Paul, and Autumn.
Friends received on Friday, March 17, 2017 from 9:30AM until time of Funeral Service at 11AM at Raymond Funeral Chapel, 5635 Washington Avenue, La Plata, Maryland 20646. Interment to follow at Trinity Memorial Gardens, 3221 Mattawoman-Beantown Road, Waldorf, Maryland 20601.
Memorial donations in Bonnie's name may be sent to the American Lung Association, 1301 Pennsylvania Avenue NW, Suite 800, Washington, DC 20004-1725.