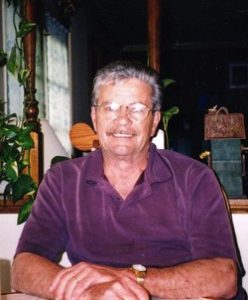 Donald Francis Purdy, 75, of Somerset, PA (formerly of Hughesville, MD) passed away March 12, 2017 at Somerset Hospital in Somerset, PA, surrounded by his loving family.
He was born November 29, 1941 in Washington, D.C. to the late Wilson Jerome Purdy and Catherine Teresa Magill.
Donald was a dedicated employee of Giant Foods until his retirement in 1999. After retiring, he continued working at DJ's One Stop and Thompson's Seafood. He also worked for Rita B as a caterer. On November 12, 1994 he married his beloved wife, Cynthia Guy in Hawaii. In the Fall 1995 they remarried at St. Joseph's Catholic Church, Morganza, MD. Together they celebrated over 22 wonderful years of marriage.
His hobbies included watching the Washington Redskins and NASCAR. He enjoyed spending time at the beach and decorating for Christmas. He was well known for playing Keno and scratch off lottery. Spending time with his family was a priority and something he always looked forward too.
He was a long-time volunteer with Silver Hill Fire Department.
In addition to his wife, Donald is survived by his children: Michele Taylor (Jeff) of Myrtle Beach, SC, Lynn Carpenter (Stanley) of Cheltenham, MD, Julie Steele (Ed) of Huntingtown, MD, Susan Walters (Ray) of Huntingtown, MD, Jackie Maust (Chuck) of Burlin, PA, Shelly Broderick of LaPlata, MD, and Lawrence Buckler (Lisa) of Hughesville, MD; his sister, Patsy Boteler (William) of Annapolis, MD; 17 grandchildren; 18 great grandchildren, and many extended family and friends. He is preceded in death by his parents and siblings, Jerry Purdy and Janet Purdy.
Family will receive friends on Thursday, March 16, 2017 from 2:00 p.m. – 4:00 p.m., and 6:00 – 8:00 p.m., with prayers recited at 7:00 p.m., at Brinsfield Echols Funeral Home, 30195 Three Notch Road, Charlotte Hall, MD 20622. A Mass of Christian Burial will be celebrated by Reverend Drew Royals on Friday, March 17, 2017 at 10:00 a.m. at St. Joseph's Catholic Church, 29119 Point Lookout Road, Morganza, MD 20660. Interment will be private.
Memorial contributions may be made to Hospice of St. Mary's, P.O. Box 625, Leonardtown, MD 20650.
Arrangements by the Brinsfield Funeral Home, P.A.