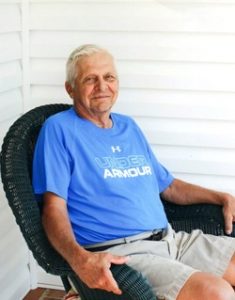 Joseph Andrew "Joe" Potanka, Jr., 70, of Hollywood, MD passed away March 15, 2017 at Hospice House of St. Mary's with his loving family at his side.
He was born November 22, 1946 in New Britain, CT to the late Jean and Joseph Potanka, Sr.
Joe was many things to many people; a son, brother, husband, father, grandfather, teacher, coach, mentor and friend. He had a true gift of reading the hearts of youths, his involvement was pure and unforgettable. Many people looked up to him for guidance, work ethic, leadership and saw him as a caring role model. He was able to see the potential in just about everyone he met and worked hard to make sure they could see the same potential in themselves. Sometimes he had a funny way of showing how much he cared, like yelling at you to do better or pointing out your mistakes, but honestly that was his way of saying that he believed in you and knew you had so much potential.
Pop loved his grandsons, they were not only his pride and joy, and they were his best friends. When they were little he spent hours racing matchbox cars on the floor, watching their favorite shows and laughing together. As they got older and traded their matchbox cars for bats, gloves, basketballs and hockey sticks, he was there to teach them and coach them from the sidelines (whether he was the actual coach or not!).
He and his wife enjoyed following their children and grandchildren around to their games, school events and spending as much time as possible with family. They also enjoyed quiet evenings on the boat, fishing, crabbing, sitting on their pier and vacationing in the Outer Banks.
While serving in the United States Marine Corp he was stationed at the Patuxent River Naval Air Station in 1969. He quickly became part of the community by joining a local baseball team, coaching the women's basketball team at St. Mary's College and teaching physical education in the St. Mary's County Public School system. For 33 years. During this time he met his wife, Nancy (McKay) Potanka and they married on June 24, 1972 at St. John's Church, Hollywood, MD. They were blessed with 44years of marriage and two wonderful daughters.
In addition to his beloved wife, he is also survived by his daughters, Cindy Abell (Dale) and Sandy Abell, both of Hollywood, MD; 4 grandsons: Chad and Matt Abell, and Derek and Tyler Abell. He was the oldest of 4 children and is survived by his siblings: Ed Potanka (Anita) of West Brook, CT, Paul Potanka of Canton, CT and Jean Lamagdeleine (David) of Keene, NH. He is preceded in death by his parents.
Family will receive friends on Sunday, March 19, 2017 from 2:00 till 5:00 p.m., with a prayer service at 4:00 p.m., at the Brinsfield Funeral Home, 22955 Hollywood Road, Leonardtown, MD 20650. A Mass of Christian Burial will be celebrated by Reverend Raymond Schmidt on Monday, March 20, 2017 at 11: 00 a.m. at St. John Francis Regis Catholic Church, 43927 St. John's Road, Hollywood, MD. Interment will follow in the church cemetery.
Serving as pallbearers will be Alan Raley, Mike Raley, Rusty Tarleton, Dale Tarleton, Keith Tarleton, and Cameron Corcoran.  Honorary pallbearers are his grandsons, Chad, Matt, Derek and Tyler.
Memorial contributions may be made to St. John's School 43900 St. John's Road, Hollywood, MD 20636 and Hospice House of St. Mary's, P.O. Box 625, Leonardtown, MD 20650
Arrangements by the Brinsfield Funeral Home, P.A.