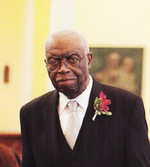 Warren Alexander Statesman, Sr. 85, of Valley Lee, MD passed away on March 11, 2017 in Leonardtown, MD. Born on June 22, 1931 in Valley Lee, MD he was the son of the late Mary Cutchember Statesman and Ellis Statesman. Warren was the loving husband of Priscilla Mae Statesman, whom he married in St. Mark's U.A.M.E. Church Valley Lee, MD on April 16, 1960. Warren is survived by his children: Warren A. Statesman, Jr. of Valley Lee, MD, Kirstin A. Riddle of Glen Burnie, MD, and 1 grandchild. Siblings; Alfred E. Statesman of Valley Lee, MD, Winfred A. Wilson of Washington, DC, and Joseph S. Statesman of Valley Lee, MD. Warren was a lifelong St. Mary's County, MD resident. He graduated from Jarboesville High School in 1948.
Warren served 4 years in the United States Air Force. While serving in the Korean War, he earned the National Defense Service Medal, and Good Conduct Medal. He belonged to the Joseph A. Eagans #104 Fidelity Chapter #60 Order of Eastern Star; Corinthian Chapter #60, and Royal Arch Masons.
The family will receive friends on Saturday, March 18, 2017 from 9:30 AM – 10:30 AM with Masonic Rights from 10:30 AM – 11:00 AM in St. Mark's U.A.M.E. Church Valley Lee, MD. A Funeral Service will follow at 11:00 AM. Interment will follow in the church cemetery. Pallbearers will be: Wm Derwinn Boothe, SW Calvin Orr, RW Glenn James, PM Kurt Miller, Brother Jeff Hughes and Brother Darrel S. Jackson, Sr. Honorary Pallbearers will be: Alfred Jordan, Shawn Jordan and Frank Travers, Sr.