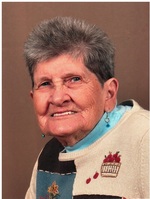 Margaret "Betty" Elizabeth Mattingly Potts, 92, of Leonardtown, MD passed away surrounded by her loving family on March 13, 2017 in her residence in Leonardtown, MD. Born on December 17, 1924, she was the daughter of the late Agnes Gertrude Miles Mattingly and Charles Jenkins Mattingly, Sr. Betty was the loving wife of the late Francis Marion Potts who preceded her in death on November 29, 1982. Betty is survived by her children: Fran Conway ( Patrick) of Silver Spring, MD, Gene Potts of Leonardtown, MD, Richard Potts (Barbara) of Hollywood, MD, Jo Ann Potts of Leonardtown, MD, Jerry Potts (Maria) of Rockville, MD, and 9 grandchildren. Siblings: Miles Mattingly, Ann Mattingly, Margaret Yowaiski, Ruth Brown, Mary Jane Mattingly, Joseph Mattingly, and Joan Frances Raley. She was preceded in death by her daughter Terry Potts, siblings: Jenks Mattingly Jr., and Mary Agnes Farrell. She was born and raised here, and left after high school, returning to St. Mary's County, MD in 1972 from the Washington area. Betty was a substitute teacher and homemaker.
The family will receive friends on Thursday, March 16, 2017 from 9:00 AM – 10:00 AM in St. Aloysius Catholic Church Leonardtown, MD. A Mass of Christian Burial will be celebrated on Thursday, March 16, 2017 at 10:00 AM in St. Aloysius Catholic Church in Leonardtown, MD with Father David Beaubien officiating. Interment will follow in Trinity Memorial Gardens Waldorf, MD. Pallbearers will be: Clyde Farrell, CD Raley, Bill Mattingly, Arthur Farrell, Pat Conway, and Willie Yowaski. Honorary Pallbearer will be Ruth Ann Farrell Lacey.
Contributions may be made to Hospice of St. Mary's P.O. Box 625 Leonardtown, MD.
Arrangements provided by the Mattingley-Gardiner Funeral Home, P.A. Leonardtown, MD.