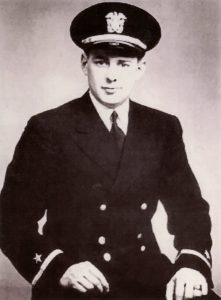 William "Bill" Parker Cloyes passed away early on Friday, March 17, 2017, at his home in Maryland in the Asbury Solomons Island retirement community. His death was confirmed by his wife of 38 years, Dolores (Nelson) Cloyes. He was 95 years old.
Bill Cloyes was born in Springfield, Massachusetts on December 8, 1921, in a paternal family that dates back to 1655. His grandfather, William Oscar Cloyes, was highly decorated for the major role that he played in saving the Union's Iron Clad Monitor "Montauk" during the Civil War. After the premature death of his father at the age of 47, Bill, aged five, and his brother, John Henry Cloyes, aged three, were moved to the Masonic Home in Utica, New York. In 1939, Bill Cloyes graduated from the Thomas R. Proctor High School in Utica, New York. In 1944, he graduated from Rensselaer Polytechnic Institute in Troy, New York, with a five-year Bachelor of Chemical Engineering degree. At Rensselaer, he was elected to Pi Delta Epsilon, the national journalism honorary fraternity.
A member of the first US Naval ROTC unit at Rensselaer, Bill Cloyes served in World War II as a commissioned officer, beginning in 1942, and received several awards as a Lieutenant Junior Grade in the US Navy in the Pacific fleet, including the Presidential Unit Citation for extraordinary heroism. He was one of the officers instrumental in saving the USS Essex when the aircraft carrier was attacked by a Japanese Kamikaze on November 25, 1944.
After the war, Cloyes began a career with NL Industries (formerly National Lead Co.) that spanned 36 years in various senior management positions, the first 17 of which were spent with NL's affiliate, Titanium Metals Corporation of America. Cloyes is recognized as a pioneer in NL's commercial production of titanium metal in the United States, the production and quality control of titanium extrusions for the Lockheed Aircraft SR-71 supersonic reconnaissance plane used by the US Airforce, and Titanium Metal's first titanium metal plant in Henderson, Nevada. He also expedited the construction and start-up of NL's rutile mine in Queensland, Australia, and its first magnesium plant near the Great Salt Lake in Utah.
Bill Cloyes retired early, at the age of 62, devoting himself to a wide range of charitable causes and travel. Dedicated to ecological awareness and respect for the Earth's aquatic beauty, he and Dolores moved to Maryland in 2000, where they have focused on ornithological, ecological, and historical activities in Maryland's Chesapeake Bay area. Bill was also a founding contributor to the World War II Memorial Society. For more than two decades, he and Dolores traveled widely in the Caribbean, New Zealand, Australia, Spain, and throughout the United States, including attendance at USS Essex Naval reunions.
Besides his wife, Dolores, and brother, John, a resident of Katy, TX, Bill Cloyes is survived by two daughters, Shirley Cloyes DioGuardi of Ossining, NY, and Gail Coles of Emmaus, PA; a son, John Cloyes of Princeton Junction, NJ; a stepdaughter, Wendy Brown of Kearny, NJ; a stepson, Rob Brown of Plainfield, NJ; eight grandchildren and one great-grandchild.
Services will be private. In lieu of flowers, donations in Bill Cloyes' memory may be sent to Calvert Hospice, P.O. Box 838, Prince Frederick, MD 20678, and to Asbury Solomons Benevolent Fund, 11100 Asbury Circle, Solomons, MD 20688. Arrangements provided by Rausch Funeral Home, P.A., Lusby, MD.